Thanks to everyone who made the 37th Annual Ocean Beach Street Fair & Chili Cook-Off Festival a success! Mark your calendar for the 38th Annual Ocean Beach Street Fair & Chili Cook-Off Festival on June 24, 2017!
The 37th Annual Ocean Beach Street Fair & Chili Cook-Off Festival offered attendees eclectic fun in the sun for all ages. Attendees joined more than 70,000 visitors from 10am to 8pm on Saturday, June 25, 2016, for tasty festival nosh, art, beachfront entertainment, shopping, and more. Entry to the Street Fair is always free! The Chili Competition featured tastings from amateur entrants competing for the titles of Hottest Chili, Judges' Award, and Grand Prize: People's Choice Award. Attendees of all ages took part in creating the annual Street Fair Community Mural. See photos from the 2016 Street Fair.
Check out more details about all the great features of our signature annual event below!

About the 2016 Street Fair design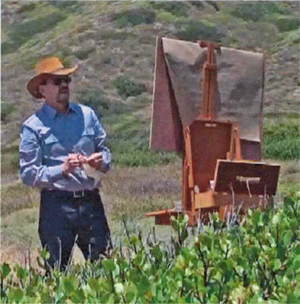 The 37th Annual Street Fair & Chili Cook-Off artwork that appears on our event t-shirts and promotional materials is based on an original watercolor painting by late Ocean Beach artist David Linton, who passed away in early 2015. Well known for his depictions of the Ocean Beach Pier and other scenery in the OB/Point Loma area, David worked in oils, watercolor, acrylics, pen and ink, and pastels. In his own words:
I guess it all started when I was twelve years old and I was drawing and learning about color and using the walls and ceiling of my bedroom as a surface to paint on, my mother took one look at it and said get your coat on we are going to Sears Department Stores where she purchased my first painting set with canvases to paint on. So began a new world for me and my mother was happyshe had an artist for a son who was painting on canvas and not the walls. Growing up as an artist was not easy; you were given this talent but there was no instruction book to help guide you through this path of your life. --David Linton
We are grateful to David's wife Carol for granting permission to share David's work through this year's Street Fair design. Learn more about David Linton.
---