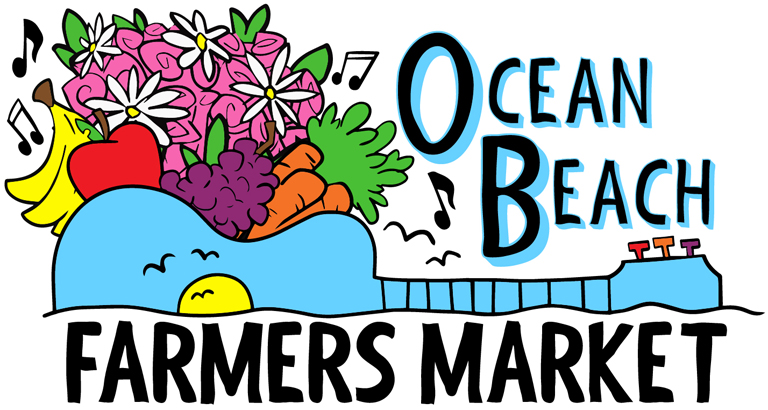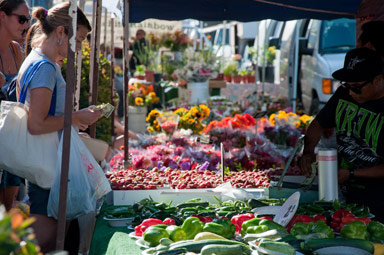 Celebrating 25 years of the OB Farmers Market in 2017!
If you are looking for some fresh produce and a way to support San Diego's local farmers, look no further! You've come to the right place. The Ocean Beach Farmers Market occurs every Wednesday from 4-8 pm (4-7pm in winter), and is located on the 4900 Block of Newport Avenue between Cable and Bacon Streets in Ocean Beach.
The Ocean Beach Farmers Market has something for everyone. This event boasts the same free-spirited and funky vibe that can be felt throughout this beachside community. Here you will find countless vendors of fresh produce, tasty ready to eat meals, unique homemade arts and crafts, and live music to help set the tone for a fun and exciting evening out.
Samples are readily available to help you decide what tasty treats you will be carrying home with you, but don't fill up too fast -- there is an array of food options available for dinner as well. Here you will find plenty of options for dinner, such as tacos, a variety of sandwiches and more unusual choices like Torpastas (baguettes stuffed w/pasta). You will also find a selection of authentic crepes, ceviche, tamales, and other delectable treats to satisfy your cravings. 
DON'T MISS YOUR OPPORTUNITY TO PURCHASE THE FRESHEST AND MOST DELICIOUS LOCALLY GROWN PRODUCE, ART, FLOWERS AND MORE!
"Wow. The farmers market was fantastic. The fresh produce superb. Enjoyed walking through the vendors booths, sampling fresh fruit...a real cornucopia of sights, sounds and smells. We plan to make this a regular stop when visiting San Diego."
- Reviewed August 24, 2013
Photos by Troy Orem. To view the full photo album click one of the above images or Click Here
Thank you to LAZ Parking, Torrey Pines Management, Apple Tree Market, and Cafe Bella for participating in the Farmers Market.
Ocean Beach Certified Farmers Market Hours...
---
Musicians and Performance Schedule
July 26
4PM - tba
6pm - Chicken Bone Slim (traditional blues)
Aug 2
4PM - Halfblood (kids that rock)
6PM - Halfblood (2 Shows!)
August 9
4pm - Fast Heart Mart (Americana)
6pm - Sahara Grim (young lions jazz)
August 16
4pm - Kris Wott and Michael Head (acoustic blues rock)
6pm - No Kings (OB Ska)
August 23
4pm - Bri Shillings (worldly pop)
6pm - Red Fox Tails (fusion)
August 30
4pm - Gary Flick (pop rock)
6pm - Skyler Lutes band (alternative)
Sept 6
4pm - David Rakietan (beat box)
6pm - The Naked I (classic rock and blues)
---
For Information...