Our new Historic Walking Tour Brochure is now online for all to enjoy!  Many of the buildings you will find in the Ocean Beach Historic Tour originated during the early 1900's and the Resort Days of the 1920.  Click here to view the entire Self Guided Walking Tour Brochure.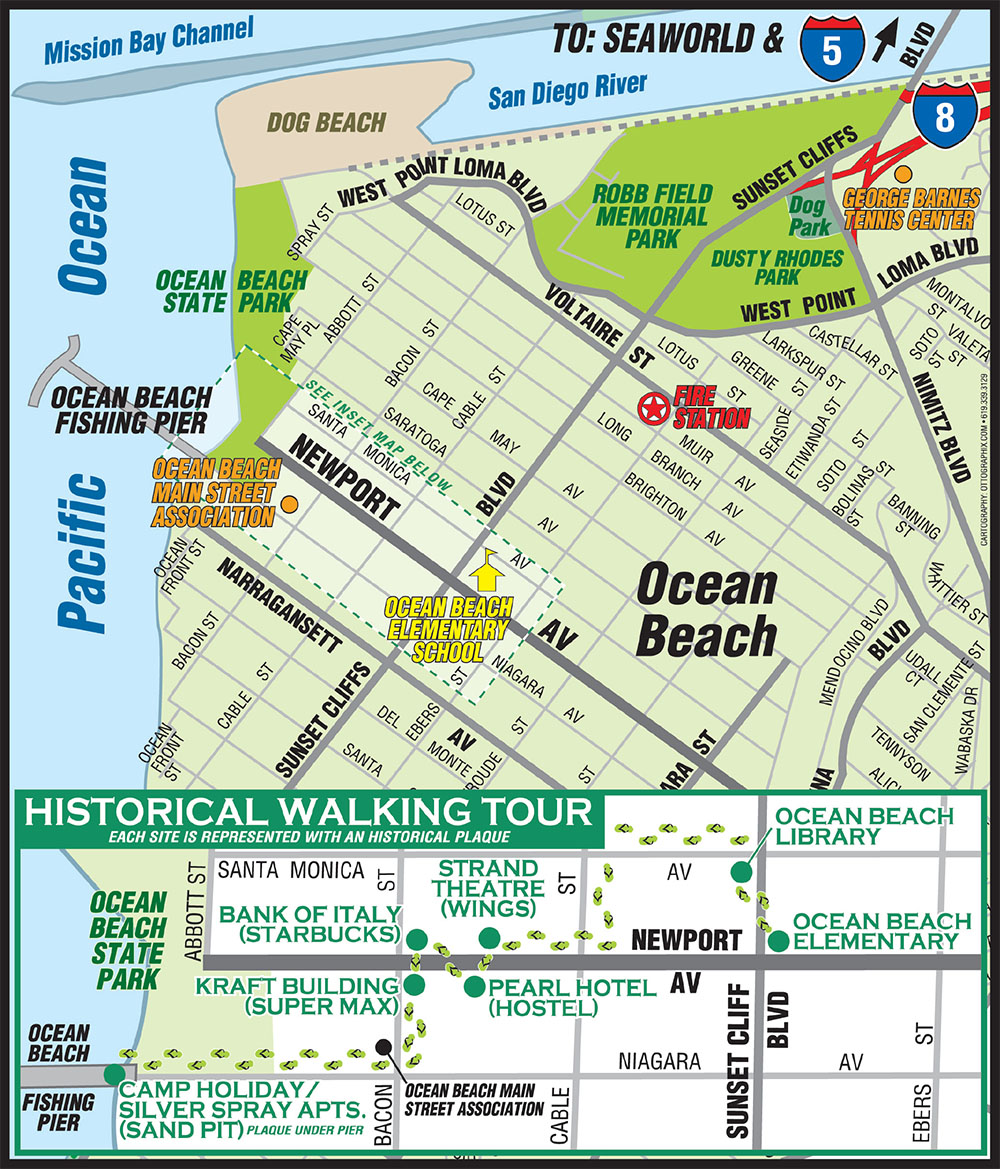 Ocean Beach "initially" happened in spring 1887 when entrepreneurs William H. "Billy" Carlson and Frank J. Higgins bought 600 acres of Pueblo lots (the area of coastland divided by the Yankees in 1846) and named their new acquisition Ocean Beach.
According to Ruth Held, renowned OB Historian, the two men quickly subdivided their lots and sold most of them. Before much of the building began, however, the economy took a dive. Higgins committed suicide, and Carlson left Ocean Beach, entered the railroad business, and became mayor of San Diego in 1893, at the age of 29.
Ocean Beach "really" happened in 1907 when David Charles "D.C." Collier bought some acreage and made Ocean Beach a livable community. Before 1846 the San Diego Native Americans would camp and picnic among the mussel beds, but no one lived along the rocky coastline that had no access to potable water.
Collier brought new life to Ocean Beach beginning with his first purchase, when he built Housing, Infrastructure, Public Transportation (a Streetcar Line) and a School. By 1910, Held's book "Beach Town" states that Ocean Beach was now home to 100 houses. Ocean Beach soon grew from those 100 homes and a school into a hopping resort town, and eventually evolved into the town we all know and love today.
October 3, 1542 marks the possible date that non-native Americans saw Ocean Beach for the first time. According to "Beach Town" by Ruth Held, Juan Rodriguez Cabrillo and his ship passed by the mountainous cliffs on that day on their way north after exploring the San Diego Bay, which they called San Miguel.
San Diego's history began 60 years later, November 10, 1602, when Sebastian Vizcaino and his ship passed through the harbor and named it San Diego. California's history begins a century and a half later, July 16, 1769 when Father Junipero Serra raised the cross on Presidio Hill, located in Mission Valley, South of the I-8 freeway.

For More Ocean Beach History Visit the Ocean Beach Historical Society