Chili Cook-Off Winners & Awards
AMATEUR DIVISION
Judge's Awards
1st Place: Tom Wilber with "The Devil's Ice Cream
2nd Place: Anthony To "Taste Buds"
People's Choice Awards
1st Place: Emmanuel Solis
2nd Place: Sergio Pelayo "Tomasello & Sons"
3rd Place: Bill DeWitt "California Wild Ales"
RESTAURANT DIVISION
Judge's Awards
1st Place: OB Surf Lodge
2nd Place: Krisp
People's Choice Awards
1st Place: La Dona
Amateur or Restaurant Division
HOTTEST CHILI
BEST COSTUMES, BOOTH & DECORATIONS
Krisp and Emmanuel Solis
---
2022 Chili Cook-Off Contestants
Adventure Blast
Bacon or Bust
Chili Boat
Chili Juana Krisp
Hangover Cure Chili Crew
Luigi's Pizza Da Kine Chili
The Devi's Ice Cream
Tomasello & Sons
Trippin Hot Chili
White Boy John's
---
A brief history of the OB Chili Cook-Off Festival
In 1984, Ocean Beach had its first Chili Cook-off Festival with  Mike Akey, current board of directors member of the OB MainStreet Association, as its founder. Back in the 1970s, Mike and his father Angie Scaramuzzo were chili enthusiasts and often traveled to chili cook-offs in the likes of Las Vegas, Balboa Island, Cabo San Lucas, and Guadalajara, just to mention a few. Mike's dad once went to the world competition in Rosemond, California (a ghost town), to compete with his "Scaramuch Chili." Angie also founded the Lake Havasu City Chili Cook-Off which is still going on today.
Mike thought about starting a cook-off in OB and made the decision to do so in 1984. For the first three years, the chili cook-offs were sanctioned by the International Chili Society (ICS), and the winner was eligible to go to the State Cook-Off, which could have potentially led to the National Cook-Off. In 1987, Akey and his committee decided to change to an Amateur Cook-Off, though they still use the basics from the ICS for judging.
The Cook-Off also used to have a Shoot and Holler Contest – basically a shot of tequila and then a shout in the microphone . . . the loudest person got the award. "We also enjoyed the Mr. Hot Sauce and Miss Chili Pepper Contest during the same time period. We eventually had to stop that," said Mike. "It got a little too risqué and was developing into a bikini contest."
In the early days, bales of hay lined part of the 4900 block of Newport Avenue to provide seating for the Chili Cook-Off. Eventually the OB Chili Cook-Off moved to the OB Pier parking lot, but the blacktop was just too hot. The move to Veterans Plaza on the grass really filled the bill and has been the site for our Cook-Off ever since, with over three times the number of contestants!
Thanks to Mike Akey and his dad for founding the OB Chili Cook-Off so that we can all enjoy it again this year.
---
The Chili Cook-Off competition is held in the grassy area between Newport Avenue and the Pacific. Show off your chili cooking chops by competing for great prizes... not to mention the satisfaction of winning!
Chili Cookers:
Enter to win a spot in the Ocean Beach Hall of Fame by submitting your amazing chili recipe in the 42nd annual Chili Cook-off! Each chili entry will be judged by prominent members of our community as well as by thousands of San Diegans in a "people's choice" award. Winners will receive up to $300 in prize money, an award plaque, and be announced on our main stage as well as publicized on social media, online, and through a number of print publications.
There will be two categories; an amateur and a restaurant category. The entry fee is only $35 per team, so please consider submitting an application to enter.
---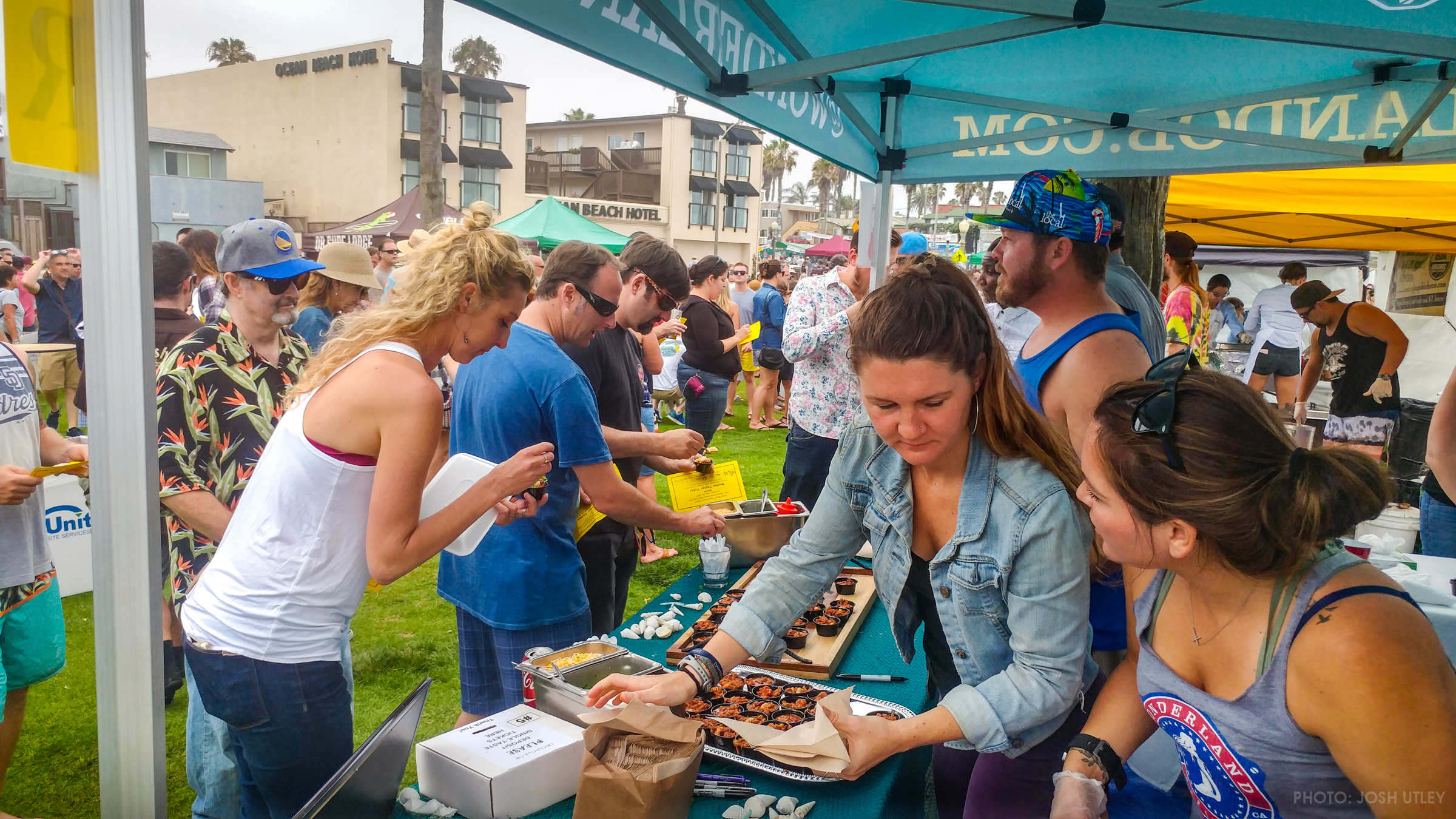 ---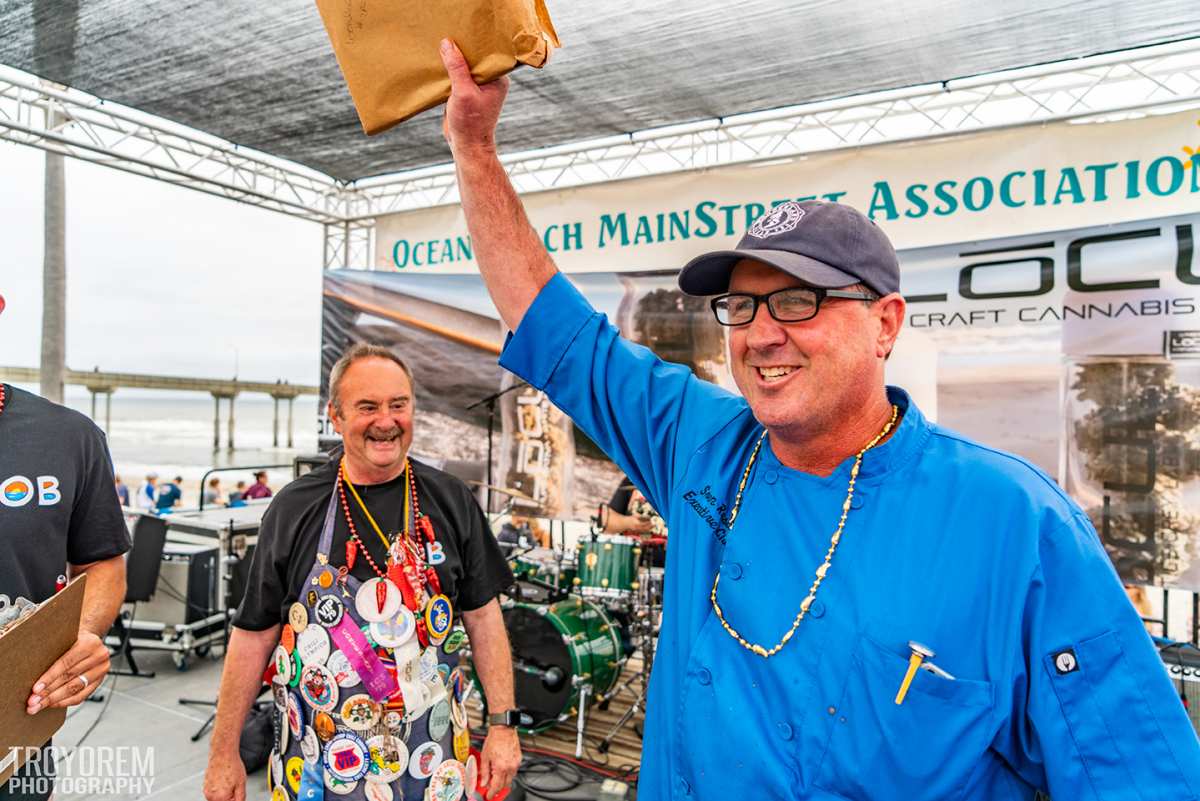 Congratulations To The 2019 Winning Chili Teams! A huge thank you to all the participants - without you, we could not put on the Annual Ocean Beach Fireworks Show!
Amateur Division
Judges 1st place: Hangover Cure Chili Crew
Judges 2nd place: Jetty Chili
People's Choice 1st Place: Poopdeck Pappy's Chili
People's Choice 2nd Place: Grate Full Chili
People's Choice 3rd Place: Hangover Cure Chili Crew
Restaurant Division
Judges 1st place: Pizza Port
Judges 2nd place: Raglan Public House
People's Choice 1st Place: Wonderland Ocean Pub
Special Awards
Best Costumes & Booth Decoration: Ocean Dental Care
Hottest Chili Award: Team Noodle House
---
For a list of winners over the last several years click here.
---