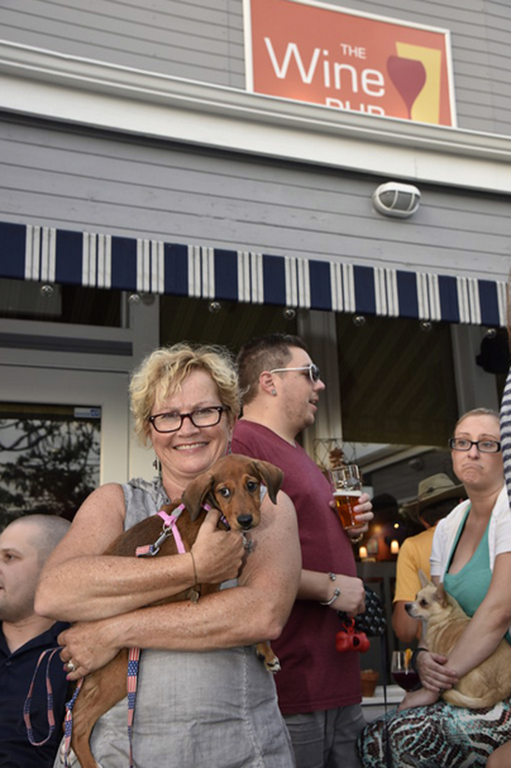 Woofer Wednesday to Benefit Canine Companions For Independence in 2016
The Wine Pub continues annual tradition donating to a local dog organization every Wednesday
When small businesses give back, a little bit goes a long way. On January 27 from 6 p.m. – 8 p.m., The Wine Pub invites San Diegans and their pooches to kick off its first Woofer Wednesday of 2016 and launch into a year of dog-friendly donations. This year's chosen organization matches service dogs to people with disabilities - Canine Companions for Independence.
The Wine Pub began Woofer Wednesday six years ago as a way to give to local dog organizations, selecting a different beneficiary at the beginning of each year and raising more than $2,400 to date. The weekly event donates ten percent of every person's check that dines in with a four-legged friend. Past beneficiaries of The Wine Pub's generous happy hour include The Rescued Dog, Furry Foster and The Barking Lot.
"We have come to think of the patio at The Wine Pub as our team's 'family room' - a great place for us to get together, relax, enjoy each other and help the rescue dogs too," says The Rescued Dog Co-Founder Katie Michelmore. "We feel tremendously fortunate to have been the beneficiary of Woofer Wednesday's in 2015."
This year's beneficiary, Canine Companions for Independence, enhances the lives of people with disabilities by providing highly trained assistance dogs and ongoing support to ensure life-saving human-pup partnerships, free of charge. 
"As a puppy owner, I know exactly how much joy four-legged friends bring into our lives," said Sandy Hanshaw, owner of The Wine Pub. "We chose Canine Companions for Independence because the organization's mission hits close to home for many of our customers. We want to contribute to the lifelong friendships that Canine Companions cultivates."
The locally owned wine bar and restaurant continues the trend by kicking off 2016 Woofer Wednesday's with the January 27 event. No reservations are required; just bring a furry friend, an appetite and an open heart.  
For more information on Woofer Wednesday and The Wine Pub, please visit
www.thewinepubsd.com
. To learn more about Canine Companions for Independence,
click here
. 
###
THE WINE PUB brings neighbors and friends together for a simply elegant dining experience in a cozy environment. With an extraordinary selection of handpicked wine, craft beer and gourmet menu, The Wine Pub has quickly become a local home away from home for all those who love living in Point Loma.  
www.thewinepubsd.com