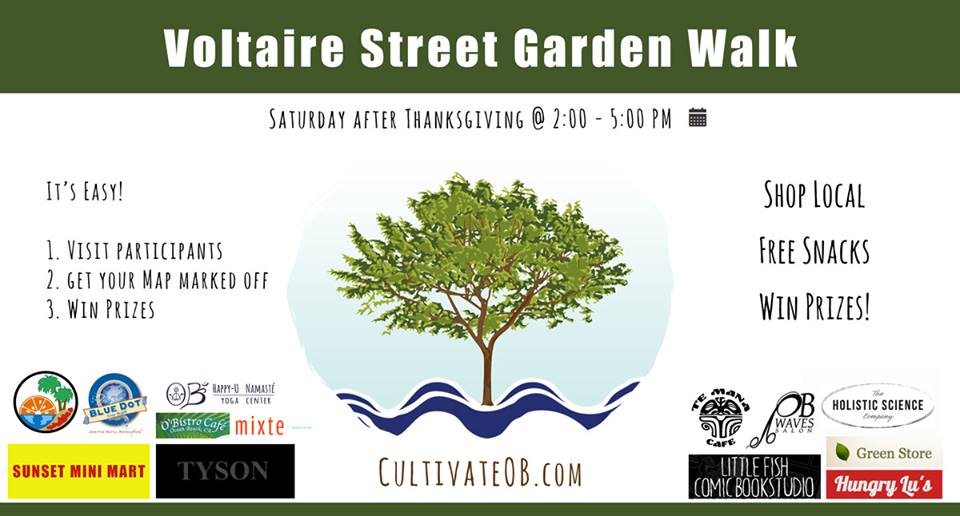 The first Voltaire St. Garden Walk will be held Saturday November 29, 2:00-5:00PM.  Come out, grab a map, and check-in at each location to get a stamp.  Turn in your map at the end to earn free tickets in a raffle for prizes!   It's a great chance to learn more about the growing good in this little green stretch while you stroll around.
You can start & end at any open participating business for your Garden Plot Map, from Blue Dot Refill to Te Mana Cafe (between Ebers & Bacon).  Those with a flower, plant or leaf can mark you off for entry in the prize raffle.  And these are really great prizes!  Bath gift baskets & goodie bags, haircuts and barber shop shaves, restaurant gift certificates, a free month of yoga, a sign by Kip of Voltaire, and much more!  Many of these businesses will be offering special sales, snacks & other specials too.   Stroll, explore & maybe get a jump start on your holiday shopping!  Here's a link to the event website and more information.  
Cultivate OB
The event is being organized by Cultivate OB,  launched by OB residents Jeff Pelton and Beth Autin to simply share all the good things growing in our little corner of Ocean Beach.  We draw inspiration from Kip of the Green Store, agreeing with Kip & Voltaire: "We must cultivate our garden."  
Voltaire Garden Walk main website:
http://cultivateob.com/shop/voltaire-st-ocean-beach/pages/voltaire-garden-walk
List of Participating businesses:
http://cultivateob.com/shop/voltaire-st-ocean-beach/group/voltaire-garden-walk
Facebook Event  Share & Invite: 
https://www.facebook.com/events/887170324635690/