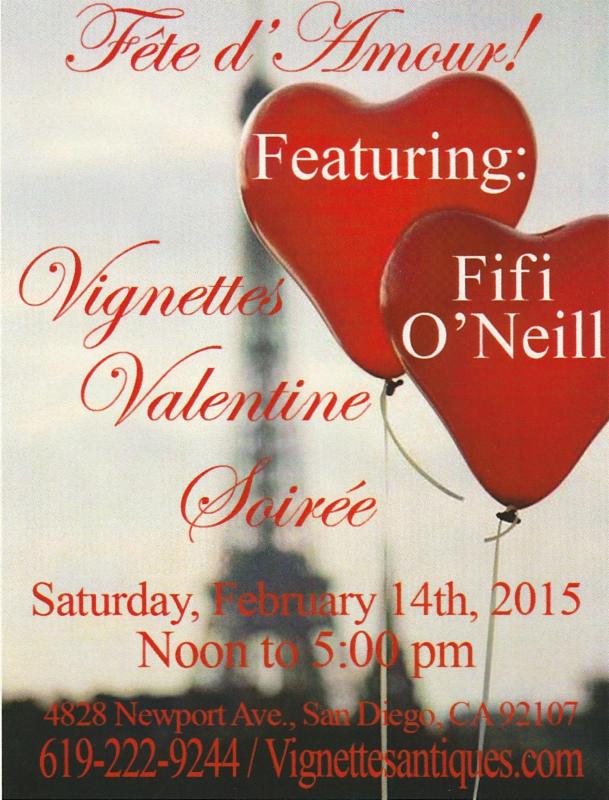 Vignettes
4828 Newport Avenue
San Diego, CA 92107
619-222-9244
Vignettesantiques.com
Vignettes' Presents ~ "Matters of the Heart"
A Valentine's Day Soiree
Saturday, February 14th, 2015
Noon to 5:00 pm
Featuring:
Author, Editor, International Photo Stylist & Blogger Extraordinaire:
Fifi O'Neill
Let the celebration of AMOUR begin at Vignettes' Valentine's Day Soiree
where Ooh La La goes Over The Top and AMOUR is celebrated
in romantique French style.
At this year's gala event, "We're presenting 'Matters of the Heart' from vintage love letters transferred on to large scale canvases and scrolled across satin upholstery fabrics to a collection of antique Valentine candy boxes embellished with antique valentines, brooches, ribbons and millinery displayed as wall art to an amazing collection of vintage, frilly prom gowns in every shade of pink covering our walls, says, owner Lori Chandler. "The subject of amour is irresistible on any day, let alone Valentine's day, so we pull out all the stops to make this an unforgettable romantic event that everyone needs in their life!"
In addition we are so proud to feature ~ visionary author, editor, international photo stylist and blogger extraordinaire with 2 million followers, Fifi O'Neill.
Fifi has established a novel international reputation for her sense of style and is a best-selling author with her third book hot off the presses, PRAIRIE-STYLE WEDDINGS, Rustic and Romantic Farm, Woodland and Garden Celebrations, which she will be signing at the event.
Her work captures an astonishing array of resourceful ideas and homespun celebrations with effortless grace, simple beauty and a nostalgic vision of romance.
Who better to be featured front and center on the most romantic day of the year?
Plan to spend the day surrounded in beauty and romance with plenty of French champagne flowing (rose infused, of course), specialty European chocolates and designer cookies made with edible valentine images!
It doesn't get any sweeter than this!
We hope to see you here for a toast!
Vive Valentine's Day ~ La Jour d'Amour!
Book-Signing/Meet & Greet With
Fifi O'Neill
From 1:00 to 4:00 pm