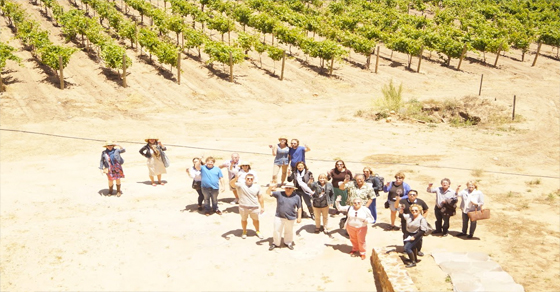 Locals Venture with The Wine Pub to Uncover Baja's Crush Season
Celebrate with VIP tour of the unexplored wine region on September 17
SAN DIEGO, September 1, 2016—In wine country, September marks Crush season—the time when winegrowers pick and crush grapes for a year's supply of the classic dinner treat. Recognizing it as the most special time to visit vineyards, The Wine Pub invites San Diego's adventure and wine enthusiasts to an irreplaceable experience in Valle de Guadalupe with VIP tours, tastings and exclusive one-on-one time with winegrowers.
"A year's worth of magic from these small, family-owned wineries is picked, crushed and corked in one month's time," says Sandy Hanshaw, owner of The Wine Pub. "This makes September the most magical time of the year to visit the vineyards. We encourage our guests to come with eagerness and leave with at least one bottle of wine for a delicious glass and a good story at their next dinner party."
On the morning of Saturday, September 17, guests will depart from The Wine Pub for the cross-border journey in mini buses. The tour will stop first in Tijuana for locally loved cuisine at Tortas Washmobile, followed by tastings at Las Nubes and Santo Tomás Winery—two wineries known for unique settings and visionary winemakers. The excursion will end with a wine-and-dinner pairing at Traslomita Cocina at Hacienda La Lomita – a winery Hanshaw calls, "one of the most sought-after destinations region wide."
Wine connoisseur and Baja California expert, Fernando Gaxiola, will join Hanshaw to guide the tour using his insight into the region's rich history of winemakers and family-owned vineyards. Gaxiola owns the largest importer of Baja wines, Baja Food + Wine, which promotes boutique, family-owned and artisan wineries from Valle de Guadalupe—the region that produces 90 percent of artisan Mexican wine.
Tickets for The Wine Pub Valle de Guadalupe tours are $195 per person and include transportation, expedited border crossing, Tijuana food stop, all tastings and a wine-and-dinner pairing at La Lomita. Driver tips are not included. Reservations are required and available here.
Due to popularity, The Wine Pub anticipates a sold out tour. The next day trip to Baja California is scheduled for Saturday, October 8. Please click here for more information.
For those interested in a taste of the region without leaving Point Loma, renowned wine experts from Valle de Guadalupe will provide the full harvest season experience on The Wine Pub's patio on Sunday, September 18.  The Crush Party is $25 per person and includes five wine tastings. Reservations are required and tickets are available here.
Visit www.thewinepubsd.com to learn more about The Wine Pub—handpicked wines, handcrafted food, Point Loma flavor.
 
###
THE WINE PUB brings neighbors and friends together for a simply elegant dining experience in a cozy environment. With an extraordinary selection of handpicked wine, craft beer and gourmet menu, The Wine Pub has quickly become a local home away from home for all those who love living in Point Loma. www.thewinepubsd.com