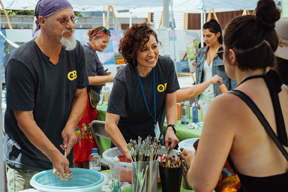 Street Fair volunteers: WE LOVE YOU! Thank you SO much for making the annual OB Street Fair & Chili Cook-Off such an awesome event for our community and for helping to raise funds for our festive 4th of July fireworks. Without you, Street Fair wouldn't be possible. You guys are THE BEST!
Special thanks to:
Adolpho Robles
Adrian Marquez
Angelica Bennett
Barbara Adams
Barbara Iacometti
Becky Greene
Beth Wright
Beverly McCalla
Brian Compton
CC Summerfield
Chad Woehrle
Chris Reefer
Christy MacCabe
Conway Lundquist
Craig Gerwig
Daisy Santana
Dave Martin
Debbie Llewelyn
Destiny Young
Don West
Donna Zoll
Emily Inthavong
Erin Frankel
Faren Shear
Fred Frankel
Gary Gilmore
Gena Patrick-West
Jean Timmons
Jon Conklin
George McCalla
Gio Inoglia
Marin Green
Heather Miguel
Heather Uribe
Henry Gould
Jack Hamlin
Jane Gawronski
Janis Ambrosiani
Jasmine Macias
Jenee Thibeaux
Jessica Voightland
Jill Crawford
Joanne Wheatley
Joella Peregoy
Joey Jubran
John Jusko
John Kearns
Judi McQueen
Karen Basnett
Kathy Lewis
Kathy Ruskin
Ken Moss
Kendra Wood
Khang Hua
Kim Chambers
Kim Zaranski
Kyle Jaworski
Kyle Plathe (InstaKyle)
Lara Nation
Laura Dennison
Laura Fenton
Laura Hinojosa
Laurie Walker
Linda Bell
Lindsey Walsh
Lira Ford
Lyn Stinson 
Lyndi Antic
Lynette Langdon
Margo Harbridge
Marian Sposato
Mark Chrisman
Mark Schlesinger
Mark Williams
Marna Cahn
Mary Ann Haskell
Mary Jo Lindl
Matt Kalla
Maya Zaky
Meg Felando
Mia Marquez
Michael Head
Michele Amsterdam
Mike Akey
Mike Knox
Morgan Harbridge
Nathan Obermeyer
Nancy Vaughn
Pat Baker
Patty Mattsson
Phylinda Clark-Graham
Pricilla Boksan
Rae Hertica
Raquel Cusi
Roger Bresnan
Ron Marcotte
Sam Solomon
Sandy Silverman
Scott Partlow
Sharon Kearns
Shirls Cimanec
Simmi Baum
Stacie Woehrle
Stephanie Robles
Susan Folsom
Teddi Brock
Teddy Wigler
Terry Beddoes
Tevia Oskin
Tim Gora
Tim Stallard & Mural Crew
Tom Gawronski
Tony Cataldo
Tony George
Trudy Levenson
Many thanks to all of our wonderful volunteers that helped make this year's OB Street Fair one of the best yet! If we've forgotten your name, please let us know by calling 619-224-4906.