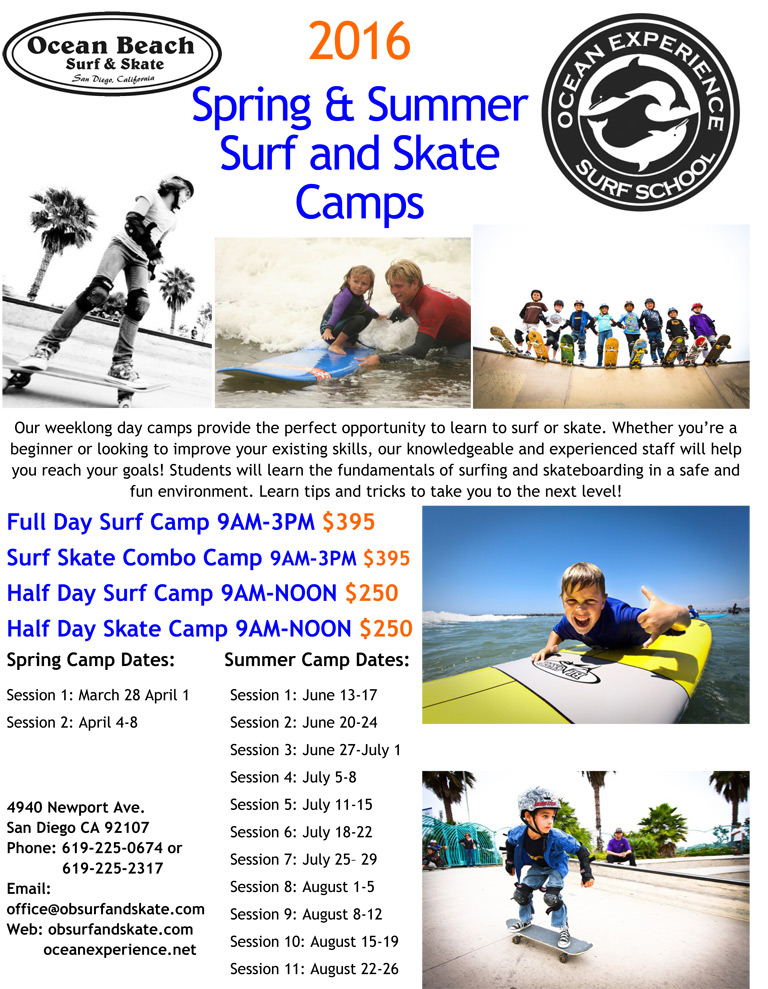 From Ocean Beach Surf & Skate:
Join Ocean Beach Surf & Skate for 2016 Spring & Summer Surf and Skate Camps!
Our weeklong day camps provide the perfect opportunity to learn to surf or skate. Whether you're a beginner or looking to improve your existing skills, our knowledgeable and experienced staff will help you reach your goals! Students will learn the fundamentals of surfing and skateboarding in a safe and fun environment. Learn tips and tricks to take you to the next level!
Full Day Surf Camp 9AM-3PM $395
Surf Skate Combo Camp 9AM-3PM $395
Half Day Surf Camp 9AM-NOON $250
Half Day Skate Camp 9AM-NOON $250
Spring Camp Dates:
Session 1: March 28 April 1
Session 2: April 4-8
Summer Camp Dates:
Session 1: June 13-17
Session 2: June 20-24
Session 3: June 27-July1
Session 4: July 5-8
Session 5: July 11-15
Session 6: July 18-22
Session 7: July 25-29
Session 8: August 1-5
Session 9: August 8-12
Session 10: August 15-19
Session 11: August 22-26
4940 Newport Ave
San Diego, CA 92107
Phone: 619-225-0674 or 619-225-2317
Email: office@obsurfandskate.com
Web: obsurfandskate.com / oceanexperience.net