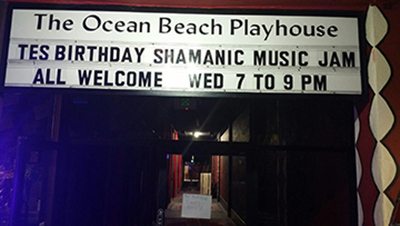 ***** PLEASE READ ENTIRELY!!!!!!!!!! *****
Calling All Self-Identifying "Sacred" Music Artists, Sound-Healers, Soothsayers, Wizards, Mystics, Clappers, Dancers, Didjers, Drummers, Bellers, Bowlers, Videographers, Computer-Graphics Projection Artists, Theatrical Lighting Techs, Sound Gurus, Professional Smartphone Photo-Takers, Tweeters, Happy Subjects & Witnesses!
(Beloveds, Friends, "Followers" & Fans of the UTHC, OCEAN BEACH PLAYHOUSE – "Temple Of The Muse"… Tes… & S2…..!!)
In Celebration of MY BIRTHDAY… (Stu's party'll be NEXT week… :) )
You are GLEEFULLY INVITED to bring your instruments, voices, eyes, cameras, hands, booty 'n feet to COME PLAY WITH ME in my little "experiment"... a SHAMANIC MUSIC JAM - two-hour "ExpressionFest" THIS COMING WEDNESDAY, MAY 27th – 7-9 pm... 
(Live! From The Center Of Existence @ The Ocean Beach Playhouse...) where a spirit-selected gathering of souls can "Rock Out" or just sit back and be enlightained in a WHOLESOME, COZY, SUBSTANCE & ALCOHOL-FREE CREATIVITY VORTEX - 
Spontaneous, Improvised Muse-ical Celebration Of Life, Love, and The Great Mystery Of It All…
Come Early… Shop, Munch, Hear The Bands & People Watch at the Famous Ocean Beach Farmers Market.If You Wish - Then… 
Join Us For The Experimental Launch Of A Unique Shamanic Expression Jam – Where "All The World's A Stage" - & Creativity Bursts Forth From Everywhere In The House!!!!
Wear a COSTUME if it makes you happy! Bring your CAMERA and shoot some video or stills to contribute to our archives, online youtube presence & virtual community - and use freely as you wish* -
*(note that all footage will be PUBLIC DOMAIN – shared "property" of all to post, re-post & go viral - youtube channel pass codes provided at our gathering to spread the vibe worldwide!!!)
I will be honored to be your muse-ical guide & "permission-granter" - inviting you to Step Up To The Mic – and Into The Light as Spirit Moves… and of course, share a tune or three with you :) ...
**THERE WILL ALSO COME A MOMENT WHEN "OUT-PROUD" BIRTHDAY WISHES, SONGS, SONNETS, ACKNOWLEDGMENTS AND POETRY WILL BE SOLICITED… SO PLEASE BE FOREWARNED!! :) ….. 
VOLUNTEER FRONT & BACK DOOR-GREETERS, SET UP & CLEAN-UP HELPERS, PASSIONATE CAMERA & TECH SUPPORT – YOUR ENTHUSIASTIC ENERGY IS WANTED & NEEDED!! PLEASE PRIVATE MESSAGE VIA "THE OCEAN BEACH PLAYHOUSE" FAN PAGE – AND PLAN TO COME EARLY… WE WILL BE DOWN AT THE PLAYHOUSE FROM 5PM ON… AND WILL BE ANNOUNCING OUR OPENING AT THE FARMER'S MARKET STAGE SOMETIME IN THE LATE AFTERNOON…
***** NOTE – NOTE – NOTE – NOTE – NOTE *****
SPACE IS EXTREMELY LIMITED!! PLEASE DO BE SURE TO RSVP, SO WE HAVE A SENSE OF NUMBERS.
STRONGLY SUGGESTED YOU CARPOOL – AND PLAN TO ARRIVE EARLY TO JOIN US FROM START-TIME ONWARDS as we create our magical container… (And Because "It's My Party" We Will Likely Run A Bit Later Than Our Official Posted "End" ...)
ALSO, PARKING IN OB CAN BE SOMETHING OF A CHALLENGE – ESPECIALLY ON FARMER'S MARKET DAY… SO KEEP THAT IN MIND… AND EVOKE YOUR PARKING FAIRIES!
(NOTE: IF THERE ARE AVAILABLE SPOTS IN THE NEW CVS LOT DIRECTLY BEHIND US, SELECT "FARMER'S MARKET" OPTION ON TICKET MACHINE, AND ENJOY FREE PARKING FOR THE EVENING!)
THANK YOU FOR LOVING ME… CAN'T WAIT TO ACTIVATE THE MUSE WITH Y'ALL!!!!!
***** UTHC ALUMNI*... LOVE TO SEE YOU!!!!!!!!!! *****
*UTHC - Universal Temple of Higher Consciousness - Unconditional Love & World Peace Incubator... Home of Planet Peace... Interfaith, Non-Denominational... Celebration Sanctuary of the Sacred Muse.....
Final Note.. For those of you who recognize the guru Nandhi in this photo, though he has lovingly granted me use of this image of us, he is presently travelling in Brazil and will not be available to join us.