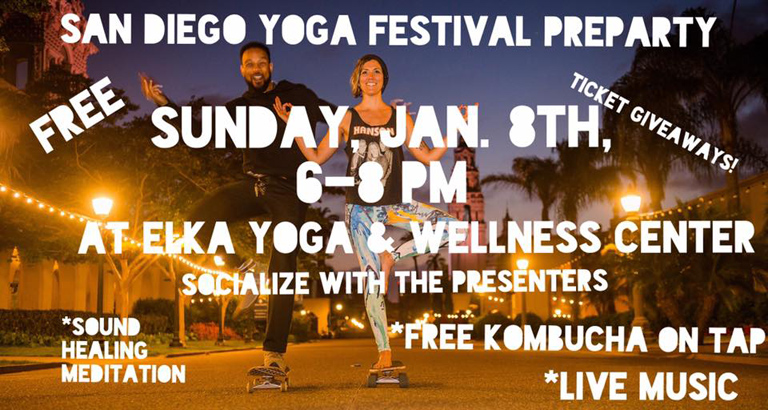 San Diego Yoga Festival is coming !! And it's coming FAST And HUGE and we are stoked on this important movement gracing 2017 and San Diego.
We prayed to the universe to bring the right people to make it possible to run a festival in a righteous, transformative, abundant way to make this vision truly happen and have 1008 yogis the first year doing yoga on the street.and then each of you came through in a unique way. We are SO GRATEFUL. Thank you, thank you, thank you.
We are CELEBRATING with a PRE-PARTY and you are invited:
Sunday, Jan. 8, 6-8 PM
at Elka Wellness Center
**To my venues hosting classes: Please bring any employees you wish
This will be time to meet the people who are making this event possible and network with each other: SDFY Teachers, Vendors, Sponsors, and OB town officials! It is a "meet and greet" of the presenters to the students who are coming. When you come in, you will get a name tag so people know your role This event will be FUN :))) and full of music and also great for your career and to get everyone excited for the event.
IT IS FREE.:)
There will be a 15 minute sound healing meditation to close the event from 7:45-8 PM. Shawna, the founder of SDFY will be leading it and Julie Johnston will contribute some sound healing.
DTO and Josh Brinks will be playing music during the 6-7:30 hour.
Deepest gratitude for Elka and Anna in donating their amazing space: if you haven't been there, you will love it.
Attached is the flyer and below is the facebook link. Please post and share with your friends and students. We will be raffling free tickets to the event and the event will have free kombucha from Kombucha Culture.