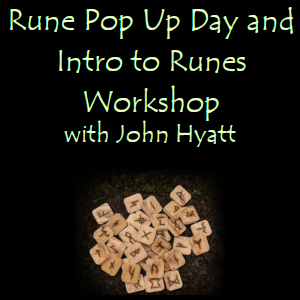 Rune Pop Up Day
With John Hijatt (aka Jan Tjeerd)
Saturday, August 10th, 12:30 to 5pm
(Intro to the Runes class at 12:30pm limited seating $20)
Stop in today to learn about and experience Runes with runeworker John Hijatt (aka Jan Tjeerd).
Runes are a divination tool rooted in Germanic/Norse spiritual practices for insight and wisdom today. From the time these mysteries were revealed to Odin and passed on to humans from Heimdall, the runic energies give us insight from the realms of Germanic cosmology of the Nine Worlds.
John will have a display of hand-crafted rune sets, talismans, and god-boxes for sale. Take advantage of this opportunity to chat with a runeworker, see rune sets, and ask questions.
Don't know about runes? Sign up for the beginning rune class at 12:30 (limited seating). In this class, John will introduce you to the expansive realm of the runes and how they can be a part of your spiritual experience. Learn the basic meanings of the 24 runes, how to start using them, and connections to Deities and realms in Germanic mythology they are connected to.
Tree of Life Metaphysical Books and Gifts
4870 Santa Monica Ave. Ste.1A
San Diego, CA 92107
(619)223-3970