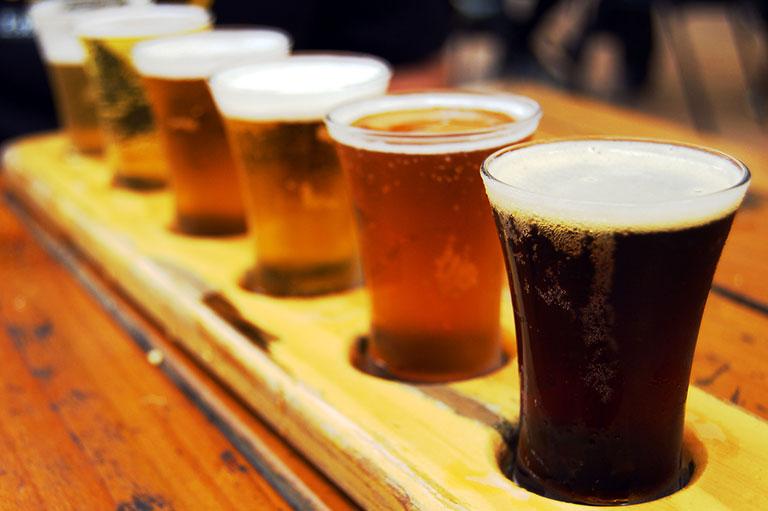 Pizza Port Ocean Beach Wins 3 Medals at the Great American Beer Festival®
GABF medals are among the most coveted in the brewing world
Denver, Co • Oct. 2013— Pizza Port Ocean Beach claimed a GOLD, SILVER and BRONZE medal at the 2013 Great American Beer Festival (GABF) competition. Presented by the Brewers Association, GABF is the largest national beer competition that recognizes the most outstanding beers produced in the United States. The top three winners in the competition's 84 beer-style categories were announced October 13 at the Great American Beer Festival awards ceremony held at the Colorado Convention Center in Denver, Colorado.
Pizza Port Ocean Beach was recognized in the Session Beer beer-style category for its Beer Hunter a Belgian style ale brewed in collaboration with Automatic Brewing Co for Michael Jackson, the Beer Hunter's, birthday. Pizza Port OB was also recognized in the Imperial Red Ale beer-style category for its Rhino Chaser a multiple medal winning, big hoppy & malty Imperial Red Ale, and Bronze for Kung Fu Elvis in the American Strong Pale Ale category. Pizza Port OB is a 15-barrel brewpub located in the beach community of Ocean Beach in sunny San Diego that specializes in award winning beer and pizza in a fun, family friendly environment. In 2011 we were voted Small Brewpub of the Year & Small Brewpub Brewer of the year at the GABF along with a gold, 2 silvers, and a bronze medal.
The 2013 GABF competition winners were selected by an international panel of 201 expert judges from the record number of 4,809 entries received from 745 U.S. breweries.
"The Great American Beer Festival brings together the most stellar brewers from around the country," said Chris Swersey, competition director. "Taking home a medal at this premier beer competition is truly a symbol of brewing excellence."
For more GABF competition information, including the 2013 winners list and photos, visit GreatAmericanBeerFestival.com.