From Shades Oceanfront Bistro at 5083 Santa Monica Ave: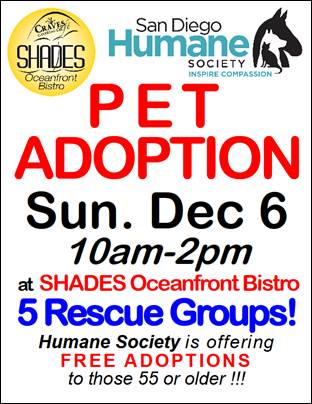 The San Diego Humane Society's Ocean Beach Holiday Pet Adoption Event will be held on Sunday, Dec 6th (10am-2pm) at SHADES Oceanfront Bistro with five local Dog Rescue Groups and their dogs, puppies, kittens and possibly even a rabbit or two.
We will also be promoting this event throughout the community and in the Ocean Beach Holiday Parade the evening before.  
2016 Humane Society Pet Adoption Events at SHADES Oceanfront Bistro
March 20, 2016
June 12, 2016
Sept 18, 2016
Dec 11, 2016   
All Event Dates are Sundays (10am-2pm)
The Humane Society, SHADES Oceanfront Bistro and adoptable pets everywhere thank you for your support and wish you a Happy Holidays.