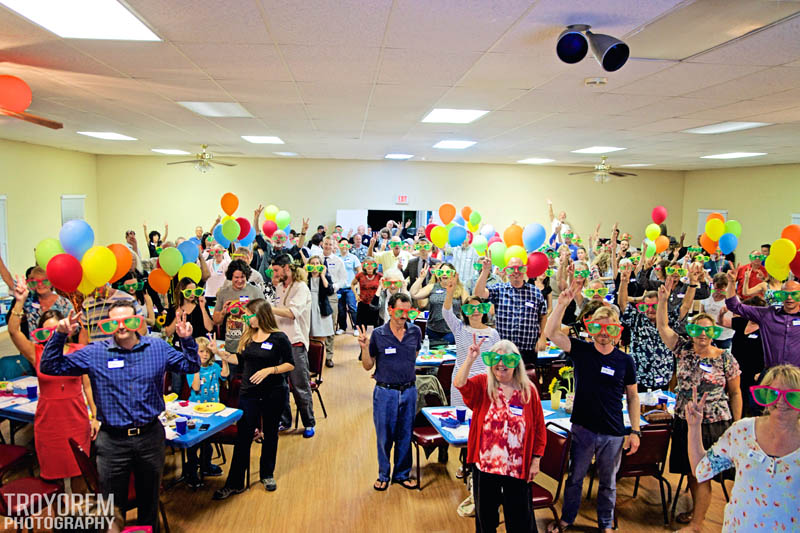 Businesses and Community Leaders Recognized for their Impact in the Ocean Beach Community
The 37th annual Ocean Beach awards brings the community together to celebrate the past year
OCEAN BEACH, Calif. – The Ocean Beach MainStreet Association (OBMA) honored members for their contributions to the Ocean Beach community at its annual Awards Celebration on Thursday, Oct. 22.
"Our annual awards ceremony is a great occasion to reflect on the past year in Ocean Beach and celebrate the accomplishments of our hard working merchants, who continuously give back to the community," said Denny Knox, executive director of OBMA.
The program highlighted events and accomplishments over the past year with a slideshow. The ceremony honored community members who died this past year, including Kevin McKay, David Linton, Alan "Tiny" Kajiwara, Yvonne Cruz and Mike Hardin. Mike's son, Shane Hardin, presented the inaugural Mike Hardin "Like a Boss" award to Steven Yeng, owner of OB Noodle House and Bar 1502. This award is presented to an outstanding member of community who reflects Mike Hardin's spirit, generosity and love of Ocean Beach. Steven Yeng continuously invests his time and resources into the community and has shown his devotion through his $10,000 donation to Ocean Beach Elementary School.
Steven Yeng shared his passion for the community and explained how he came from a refugee camp and ended up in Ocean Beach. He said it was the best thing that ever happened to him and that Mike was his mentor and a great individual who did so much for this community.
This year's theme was "It's all about the Beach."  Attendees celebrated by wearing oversized sunglasses, and centerpieces were filled with, sand, seashells and sunflowers from Wednesday's Ocean Beach Farmers Market. The awards ceremony began with the OB Pledge of Allegiance and hands up with a peace sign, an OBMA tradition.  
Councilmember Lorie Zapf was in attendance and acknowledged OBMA for its continued efforts and improvements in the community. She discussed accomplishments of the past year, including the addition of two park rangers at Sunset Cliffs and added security to the Ocean Beach public beaches and pier area. Zapf also recognized the hard work of the San Diego Police Department Western Division for keeping the community a safe and peaceful place.
Each year the OBMA committees award individuals and businesses for their contributions to public improvements, crime prevention, revitalization and expansion within the community. The OBMA Members voted on a People's Choice winner in each category while the 'Customer Service Business of the Year' was chosen by the public through online voting. The award winners are below, with the People's Choice winners marked in bold:
    
•    Crime Prevention Committee:
-    SDPD Western Division  for their outstanding work throughout the Ocean Beach community
-    OB Lifeguard Team for taking a proactive role in community safety
-    OB Sunset Cleanup Crew for establishing and consistently carrying out an awesome cleanup program
•    Design Committee:
-    Little Lion Café for outstanding small-space renovation and creating a cozy atmosphere
-    OB Warehouse for outstanding exterior and interior building renovation, including particularly impressive, award-winning restrooms
-    Culture Brewing Co. for outstanding, trendy building design of the first beer-tasting room in OB
-    Espresso Cucina for outstanding total interior remodel with a hip, urban look
•    Economic Restructuring Committee:
-    Mindy Pellissier and Giovanni Ingolia for their outstanding leadership on the Ocean Beach Community Plan, which was recently approved by the Coastal Commission
-    Ocean Beach Woman's Club for increasing membership, adding programs, and generally revitalizing a valuable community partner organization
-    CVS for revitalizing a neglected property and providing local jobs and additional parking for OB
•    Promotion Committee:
-    Hodad's for increasing visibility of Ocean Beach in the media and responding to a tragedy with grace and generosity of spirit
-    OB Noodle House/Bar 1502 for outstanding fundraising efforts and exciting projects and events that benefit the whole community
-    Rock & Roll San Diego for being some of the hardest-rocking participants at OB Street Fair, as well as for their outstanding contribution to community events and promotion of performing arts
-    Culture Brewing Co. for promotion of local art, fundraising events, community outreach and unique use of  space
•    Customer Service Business of the Year: These awards go to the businesses that exemplify the spirit of Ocean Beach and reflect a positive awareness and activity in the community through their exceptional customer service.
-    1st Place = Newport  Avenue Optometry
-    2nd Place = Catrina Russell Real Estate
-    3rd Place = James Gang Company
•    Mike Hardin "Like a Boss" Award: This award is presented to an outstanding member of community who reflects Mike Hardin's spirit, generosity and love of Ocean Beach.
Presented to Steven Yeng of OB Noodle House and Bar 1502
Music and entertainment for the Thursday ceremony was hosted by Sevy and Ryan from Glasz Productions. Food was donated by local restaurants, and beverages were donated by Culture Brewing and Pizza Port. Local merchants filled the five baskets for the raffle.