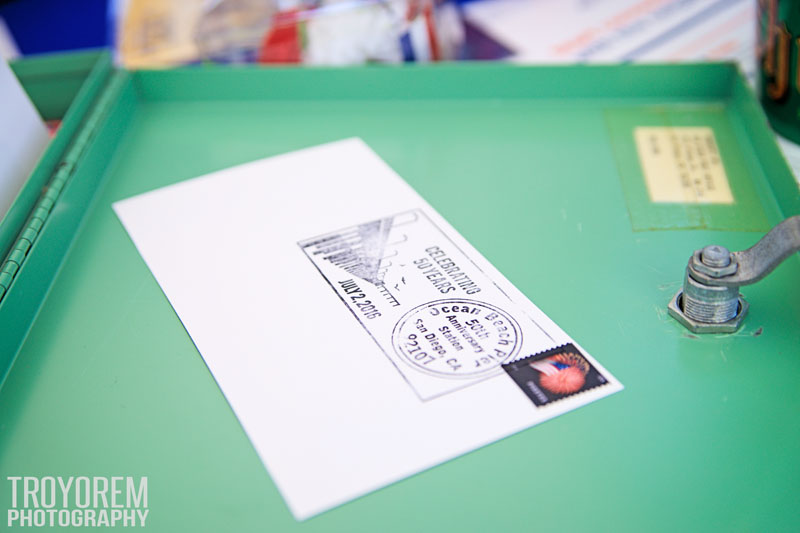 The OB Pier 50th Anniversary Special Pictorial Cancellation was a highlight of the pier's anniversary celebration on July 2, 2016! If you missed the chance to have mail stamped with our design at the festivities, or if you'd like more mail marked with the special postmark, it's not too late. Per USPS regulations, the cancellation is available for 30 days after the pictorial postmark date. That means you have until August 2, 2016, to send items stamped with (at minimum) first-class postage to:
50th Anniversary Station Postmaster
11251 Rancho Carmel Drive
San Diego, CA 92199-9996
From the USPS's Postal Bulletin (PDF; the section on Pictorial Postmarks begins on page 39, and the OB Pier 50th Anniversary Special Pictorial Cancellation is on page 41):
As a community service, the Postal Service™ offers pictorial postmarks to commemorate local events celebrated in communities throughout the nation. A list of events for which pictorial postmarks are authorized appears below. The sponsor of the pictorial postmark appears in italics under the date. Also provided are illustrations of these postmarks.
People attending these local events may obtain the postmark in person at the temporary Post Office™ station established there. Those who cannot attend the event but who wish to obtain the postmark may submit a mail order request. Pictorial postmarks are available only for the dates indicated, and requests must be postmarked no later than 30 days following the requested pictorial postmark date.
All requests must include a stamped envelope or postcard bearing at least the minimum First-Class Mail® postage. Items submitted for postmark may not include postage issued after the date of the requested postmark. Such items will be returned unserviced.
Customers wishing to obtain a postmark should affix stamps to any envelope or postcard of their choice, address the envelope or postcard to themselves or others, insert a card of postcard thickness in envelopes for sturdiness, and tuck in the flap. Place the envelope or postcard in a larger envelope and address it to: Pictorial Postmarks, followed by the Name of the Station, Address, City, State, ZIP+4® Code, as listed below.
Customers can also send stamped envelopes and postcards without addresses for postmark, as long as they supply a larger envelope with adequate postage and their return address. After applying the pictorial postmark, the Postal Service returns the items (with or without addresses) under addressed protective cover.
If you have any questions, please contact Isabel at the OBMA office: isabel@oceanbeachsandiego.com or 619-224-4906.