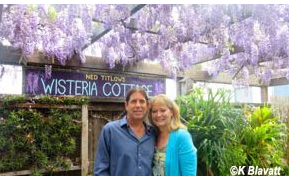 From OB Historical Society:
Join us SUNDAY, MARCH 19, 1:00 – 3:30 PM at 4761 Niagara Ave., O.B. 92107
Come celebrate Spring at the Ocean Beach Historical Society Wisteria Garden Party as we thank our members and also pay tribute to Carol Hart Bowers, Co-founder of the OBHS.
Spend the afternoon in the garden of a historic O.B. Wisteria Cottage under the largest wisteria canopy in O.B. Enjoy tasty hors d'oeuvres & desserts while listening to live music including songs from the 1920s by local Billy Lee and the Swamp Critters band (includes dance area). Enjoy a beautiful afternoon of O.B. history, culture and fun. Dress: Historic, garden party, purple attire, or O.B. casual. Hope to see you under the Wisteria Vines!
Minimum Suggested Donation: Members $10, or $20 (Admission plus Membership) Includes an opportunity drawing ticket.