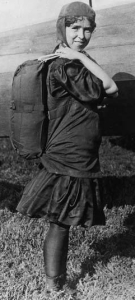 From Ocean Beach Historical Society:
Who is this gal? Find out Thurs., Feb. 15, 7 pm, at the OB Historical Society program "Unique and Funny O.B. Stories", By Kitty McDanial, Dedi Ridenour, & Jonnie Wilson, at Water's Edge Faith Community (Formally P.L.U.M.) at 1984 Sunset Cliffs Blvd., O.B.
Join us for a nostalgic trip back in time with a trio of O. B. historians. Jonnie and Kitty will regale you with stories of strange things that went on at Wonderland—O.B.'e early amusement park—as well as introduce you to some important Obecians you've probably never heard of, and reveal political shenanigans that went on during the early days of our beach town. (News flash: Things weren't any better back then!) Dedi, on the other hand, will focus her attention on her favorite topic—Ocean Beach during World War II. She was only a child during that era (albeit a precocious one), but research done as an adult—combined with her early memories—have made her a bonafide expert on this subject.