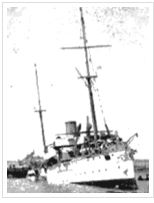 From OB Historical Society: San Diego's Naval Disaster and the Zeal for Conviction By Karen Scanlon– Thurs., Jan. 18, 7 pm – AT Water's Edge Faith Community (Formally P.L. United Methodist Church) 1984 Sunset Cliffs Blvd., O.B.
It was business as usual along San Diego's waterfront in the early morning of July 21, 1905. But a boiler explosion aboard the patrol gunboat USS Bennington, at anchor in the stream of the bay, plundered the ordinary and remains one of the deadliest peacetime disasters in the history of the United States Navy.
Immediately, a Court of Inquiry convened in San Diego. In October, the Courts Martial of Bennington's commanding and engineering officers took place at Mare Island Naval Yard. What caused the explosion that stole the lives of 66 men? The pursuit of conviction was intense.