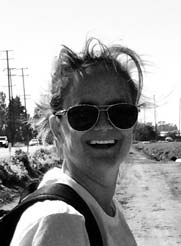 From Ocean Beach Historical Society:
OBHS Presents: Maggie Espinosa- Traveler Journalist & Author, Thursday, January 19, 7 pm at P.L. United Methodist Church, 1984 Sunset Cliffs Blvd., O.B.
Maggie Espinosa embarked on an 800-mile walk to visit California's 21 missions from San Diego to Sonoma along the El Camino Real. What ensued was the journey of a lifetime to become the 11th person to complete this sojourn.
Maggie Espinosa is a Travel Journalist. She is a member of the Society of American Travel Writers and NATJA Silver & Bronze Award Winner. She was also the San Diego San Diego Press Club president during 2013 & 2014. Maggie is author of Author of On a Mission and The Privileged Pooch.