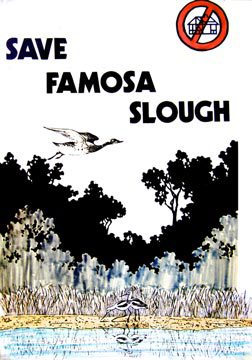 OBHS Presents: The History of Famosa Slough Featuring Jim Peugh, Thurs., April 16, 2015 at 7 pm at the P.L. United Methodist Church at 1984 Sunset Cliffs Blvd., Presenter Jim Peugh, Chair of Board of Directors of Friends of Famosa Slough, will give the history of Famosa Slough that runs from being an ice age coastal canyon, a part of the estuary of the San Diego River, a dump for construction rubble, a planned construction site, to a City-owned urban wildlife preserve and hot spot for bird watching and nature study.
We will briefly discuss the successful campaign to get the City to buy it for conservation in 1990. Also the restoration that has occurred, the current uses by people & wildlife, including endangered Ridgway's Rails and California Least Terns.
Famosa Slough is owned by the City of San Diego as a Wetland Preserve. It is a part of the City's Multiple Habitats Protection Area for the protection of at-risk, threatened, and Endangered Species. It has also been identified as a No-Take Marine Conservation Area under the State of California's Marine Life Protection Act. And it is a nice place to watch, hear, and study coastal wetlands. The Friends of Famosa Slough partner with the City to help manage and improve its value for wildlife and for visitors. Come learn the evolution of Famosa Slough, ask questions about it, or provide some little known facts about the Slough.
Visit the OB Historical Society's website for more information.