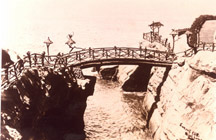 From Ocean Beach Historical Society: Please join us November 19, 2015 at 7 PM as the Ocean Beach Historical Society celebrates the "Centennial of Historic SUNSET CLIFFS!" at St. Peter's by the Sea Lutheran Church.
Ever wonder what was along Sunset Cliffs Blvd 100 years ago? How about 600 years? 70 million?
Come and hear Sunset Cliffs Natural Park Chair, Ann Swanson, and members talk of the park's dinosaurs, sea-going monster lizards, Kumeyaay Indians and other early visitors. Learn about the Sunset Cliffs' connection to Balboa Park's famous exposition, the contributions of sporting goods magnate and developer Albert Spalding as he created the cliffs' romantic bridges, gazebos and staircases. Hear about the secret passageways, caves and myths. Then hear of the later history of neglect and rubble-dumping; and now the renewed caring led by the community.
The human history of Sunset Cliffs started with the Kumeyaay who considered Sunsets Cliffs sacred, a place to be shared with all. Around the turn of the century came the Theosophists and Albert Spalding, who developed the linear section in time for the Panama California Exposition of 1915. This Ocean Beach Historical Society program will include coastal bluffs photos showing images from 1915, contrasting them with their present formations. An update regarding park planning efforts will be included, as well as a look toward future plans and needs. The OBHS is excited to offer this special 100-year anniversary presentation created by members of the Sunset Cliffs Park Council. Please join us Nov. 19th as we celebrate our wonderful park.
St. Peter's by the Sea Lutheran Church is located at 1371 Sunset Cliffs Blvd.