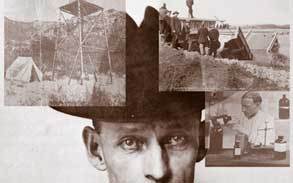 From Ocean Beach Historical Society:
The OBHS & Rick Crawford  will present "Centennial of the Devastating 1916 Flood and the Rainmaker". Thursday,  February 18, 7 pm, at St. Peter's by the Sea Lutheran Church, 1371 Sunset Cliffs Blvd, Ocean Beach (Doors will close when capacity is reached).
One hundred years ago, the drought-fearing city councilmen of San Diego hired a rainmaker. For a handshake pledge of $10,000, Charles Hatfield built a wooden tower, set up equipment at Lake Morena, and began "milking the skies." In the days that followed, San Diego was deluged with nearly 30 inches of rain. Mission Valley flooded, reservoirs filled and dams collapsed, roads and bridges washed away. Did the rainmaker produce the epic storms of January 1916?  Or was this massive deluge an act of God?
In words and pictures this presentation will re-visit the famed Rainmaker Flood and look at the strange story of an itinerant sewing machine salesman—turned rainmaker, who claimed the historic rainfall as "an act of Hatfield."
Rick Crawford is the supervisor of Special Collections at the San Diego Public Library. He is the former archives director at the San Diego Historical Society, where he also edited the Journal of San Diego History. He has degrees in history and library science, and has written extensively on local history, including articles for the San Diego Union-Tribune, and the books "San Diego Yesterday" and "The Way We Were in San Diego".
Suggested OBHS Program donation $5, but any donation is appreciated.