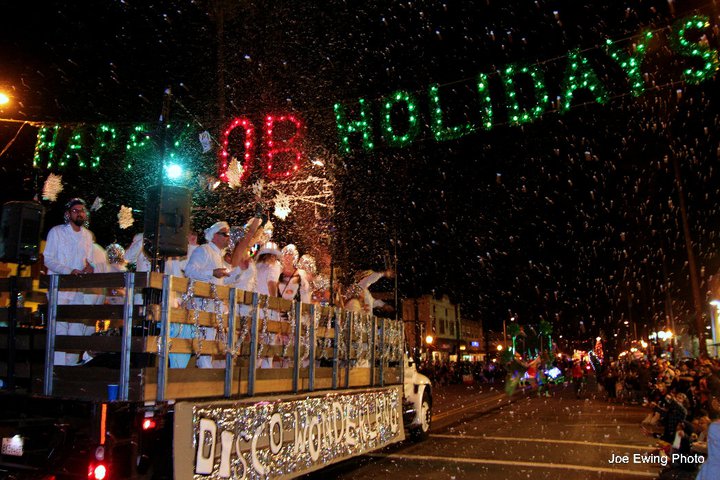 CLICK HERE to complete the ONLINE APPLICATION to be in the 2014 OB CHRISTMAS PARADE
Christmas Parade applications can be completed through the OB Town Council website (www.obtowncoundil.org) - only 100 applications will be accepted.  Complete your application before November 15th and the entry fee is $50.  After November 15th the entry fee will go up to $100.
For over 30 years, our quaint little surfing village of Ocean Beach has hosted one of the best Holiday Parades in SoCal. On Saturday, December 6th, Newport Avenue is lined with colorful OBceans and visitors all eagerly awaiting the big event to commence at 5:05pm.
For some, it's the excitement of seeing the Point Loma Marching Band strut their way down the street or the SD Roller Derby Dolls in their eye-catching costumes. For others, it's watching the VW Beetle club and classic Woodies roll down Newport Ave. Some even prefer the motorcycles, bright-lit floats and countless bands that fill the beach with live music. So, in other words, whatever your pleasure, OB has it all in our rendition of the Christmas March. And…of course…the big man himself, Santa Claus, will be making his appearance.
After the festivities, the nightlife of OB takes off as the locals and visitors celebrate and spread even more Holiday Cheer in one of the many local bars and eateries. People of all ages are invited join us at this fun-filled event – costumes, cheering and laughter are not only welcomed, they are encouraged!
Come find out what the locals have known for over 30 years – Ocean Beach hosts the best holiday parade!
—
To sponsor this event and make a contribution to the Holiday Parade, please contact Gretchen Kinney Newsom at [email protected].