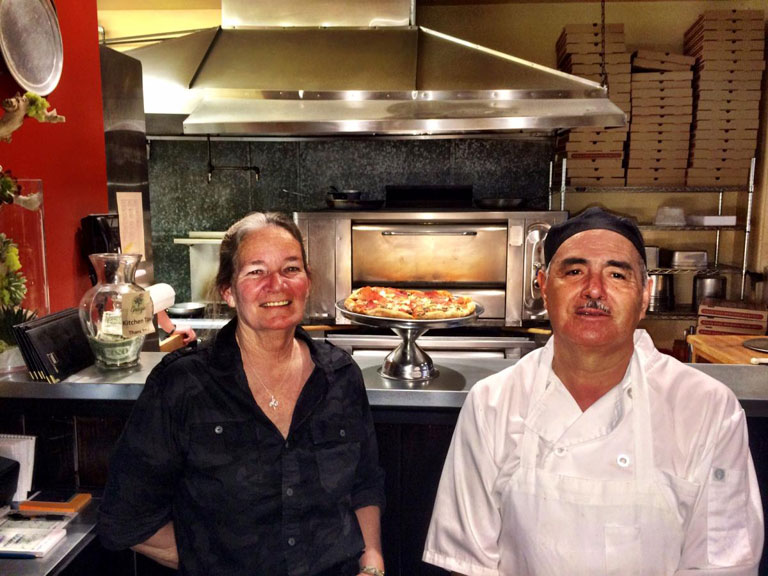 Espresso Cucina Re-Opens Under New Ownership
New Look, New Menu, Same Great Tasting Pizza
 (Ocean Beach, CA)- March 12, 2014   Espresso Cucina is open for business again after 4 months of being closed for a major face lift!  The Italian restaurant located at 1776 Sunset Cliffs Boulevard has been a fixture in the community since the early 70's. 
Chris Stavros and his wife Adriana Alcaraz purchased the restaurant when the former owner decided to sell and retire.  The couple also owns The Olive Tree Marketplace right next door.  The Stavros family has been in business in Ocean Beach since the 40's when Mr. Cristos Stavros first owned and operated what was the "Corner Malt Shop" on Newport Avenue.
"It gives us great pride and joy to contribute to the community where I was born and where I have worked my entire life," says Chris Stavros. "We took the best of what Espresso had to offer and made it better."
The interior of the restaurant has a whole new look.  The wall artwork, outdoor signage, and the tables are all made by local artists.  The menu is also different.  The favorite traditional dishes like chicken picatta, spaghetti and meatballs, and lasagna are still on there, but the main difference in taste is the use of high-quality ingredients.  The pizza dough is the same; however, the menu now calls for "creating your own pizza" which only comes in one standard 14- inch size.  The beer and wine list is now contemporary.
 "Jackie and Jesus are really the heart and soul of Espresso, "says Stavros.  They both have been working here for more than 30 years, and they know what customers like and need.  They have been instrumental during the entire process, and we are thrilled that they chose to stay and work with us."
Espresso Cucina is open for dinner from 4:30 to 9:30pm, and closed on Tuesdays.  Take-out food is available for pick –up only. For more information call 619-224-2227 or visit www. espressocucina.com.  Follow them on Facebook for updates on specials! Click here to follow them.