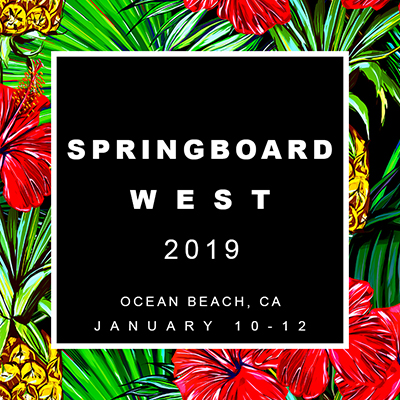 San Diego Breweries Announce Collaboration Release to Support Springboard West Music Festival
Springboard Pale Ale available to attendees during the Band & Brew Crawl, Jan 12
December 28, 2018 (San Diego, CA) – Today, a group of San Diego's finest brewers announce its unique craft beer collaboration called Springboard Pale Ale to support Springboard West Music Festival touching down in Ocean Beach in January. Participating breweries include OB Brewery, the host, along with Amplified Ale Works, Belching Beaver, Pizza Port Ocean Beach, Kilowatt Brewing and Mike Hess Brewing.
This limited-edition, draft only release will be available at all of Springboard West Music Festival's stages during the Band & Brew Crawl on January 12. The Springboard Pale Ale will have a light malt sweetness balanced with a low level of bitterness and fruity hop flavors including notes of passionfruit and citrus.
Springboard West, dubbed the "music discovery festival", is back in San Diego for its third year in a row from Jan. 10-12. For three days, emerging artists from all over the world, industry professionals and locals will gather to celebrate the future of music. The event culminates Jan. 12 with the wildly popular Band & Brew Crawl, which will feature all 50 artists performing at five different stages throughout the beach town.
"We wanted local breweries' recipe to fit Springboard's overall tropical theme," said Heather Hudson, director of partnerships for Springboard West Music Festival. "Now, not only do attendees get to discover new music in the heart of San Diego, but they also get to discover a one-of-a-kind beer."
The Band & Brew Crawl is open to the public and tickets can be purchased here. For more information on festival making musician's dreams come true, log onto www.springboardfest.com.  
###
Springboard West Music Festival is multi-day festival and conference combination that change lives and careers or musicians. After years building the most amazing event for artists, music industry and fans in Houston, Springboard Music Festival brings it to Southern California. For more information, log onto www.springboardfest.com. 
OB Brewery, located off Ocean Beach's Newport Ave., crafts a distinctly local beer that is as much a testament to the community as it is to the art of craft brewing. For more information, log onto obbrewingco.com.