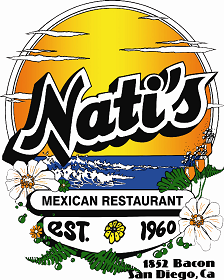 Founded in 1960, Nati's Mexican Restaurant has played a large part in the Ocean Beach community both historically and socially.  Since then Nati's has been serving fine Mexican cuisine coupled with great service and reasonable prices which has led to a solid following of loyal customers.  Their success shows in six straight "Best Overall Restaurant" awards and 55 years of continued service.
Nati's has found that it is important to retain their employees to remain consistent.  Many of the "Nati's Family" have been with the restaurant for over 25 years including chefs Maci and Inez Conde as well as lead wait staff Aida Peterson.
Prices are very reasonable, there is a full bar with compliments of margaritas, Mexican adn Domestic beers, wines and cocktails.  Located at 1852 Bacon St., one block from the Ocean Beach Pier.
Nati's Mexican Restaurant - 1852 Bacon St., San Diego, CA 92107