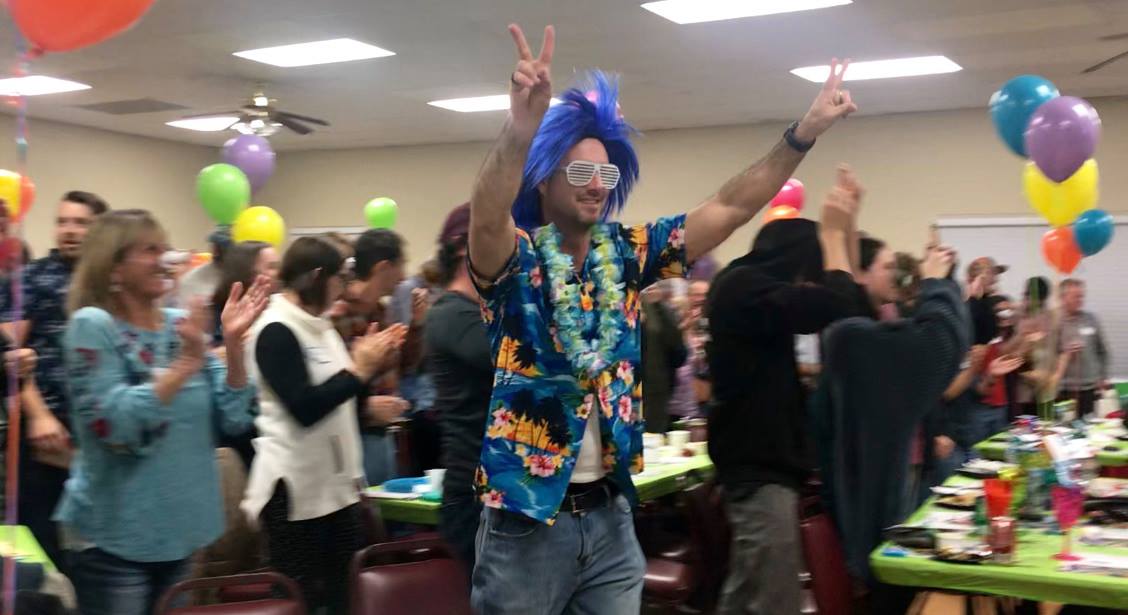 We had a great time last week at our 40th Annual Awards Celebration! A huge thank you to all those that attended, volunteered, and donated to this great event!
Congratulations to the following individuals and businesses that were recognized for their wonderful contributions to our community:
Clean & Safe Award: Ken Moss
Design Awards: Lightouse Ice Cream, OB Garden Cafe, Pat's Liquor, Sapporo, CC Summerfield, & Shore Thing Pet Supply
Economic Vitality Awards: Kilowatt Brewing, Gianni Buonomo
Vintners, OB Town Council & OB Brewery
Promotions Awards: Run for Cover Bookstore, Intrepid
Network, Culture Brewing Co., Creations
Pass the Torch Awards: OB Paint & Hardware, The Black Bead, and Ocean Beach Antique Center
Volunteer of the Year Awards: Michele Amsterdam and
Craig Gerwig
People's Choice Awards: OB Garden Cafe, OBTC, Run for Cover,
and OB Paint & Hardware.
Best Customer Service Awards: Mother's Saloon (1st place),
Catrina Russell (2nd place), and Tapshack (3rd place).
"Like A Boss" Mike Hardin Award: Claudia Jack
For more event photos, click here.
Also, thank you so much to all of our amazing sponsors ant the OBMA's 40th Annual Awards Celebration! Each year, the OBMA committees award individuals and businesses for their contributions to public improvements, public safety, design, promotion, revitalization and expansion within the community. We were honored that so many of our members participated and contributed to a great event!  From delicious dinner fare to raffle prize donations valued at nearly $4,500, we couldn't be more grateful for all of our members that helped make it such a special night.
Thank you to:
Main Sponsors
Union Bank
Inn at Sunset Cliffs
Food & Drink Sponsors
Apple Tree Market
Arizona Café
BBQ House
Beach Sweets
BO-beau Kitchen+Bar
CVS
Daybreak Island Grille
Hummus Mediterranean Cafe
It's Raw Poke
Lighthouse Ice Cream
Little Chef Chinese
Margarita's Restaurant
Mike's Taco Club
Mother's Saloon
Newport Farms
Newport Pizza & Ale House
Nico's Mexican Food
OB Brewery
OB Kabob
OB Quik Stop
OB Noodle House Bar 1502
OB Smoothie
OB Surf Lodge
Ocean Beach People's Organic Market
Olive Tree Marketplace
Ortega's Cocina
Pirate's Cove Tiki Port
Pizza Port Brewing Co.
Poma's Deli
Raglan Public House
South Beach Bar & Grille
Subway
Surfrider Pizza Cafe
The Joint
Voltaire Beach House
Winstons
Wonderland Ocean Pub
WOW Café
Table Sponsors
Brown Marketing Strategies
Catrina Russell
CC Summerfield
Details SalonSpa
EcoLux Interiors
Intrepid Network
Lighthouse Ice Cream
Matt Kalla, State Farm
Ocean Villa Inn
Point Loma Association
Raglan Public House
Sign Diego
Social Syndicate
The Peninsula Beacon
Winstons
Production Sponsors
Troy Orem Photography
Brown Marketing Strategies
Point Loma Masonic Center
Music as You Like It—Keith Danon
Economic Vitality Committee
Promotion Committee
Inn at Sunset Cliffs -Gavin Fleming
BK Printing
OB Historical Society
Intrepid Network
Raffle Contributions
Beach Sweets
Better Surf... than Sorry &  Surfer Baby
BK Printing
Bone Appetit Pet Supply
Claytime Ceramics
Craig Gerwig
Craig Alan Klein, Attorney at Law
Culture Brewing
Coastal Sage Gardening
Details SalonSpa
Dog Beach Dog Wash
Dream Girls
Eagle Print Dynamics
Floral Fantasia
Gianni Buonomo Vintners
Gilmore Family Jewelers
Hair of the Dog
Helm's Brewing
Hoppy Beer Gear
Intrepid Network
James Gang
Lighthouse Ice Cream
Mother's Saloon
Newbreak Church
Newport Avenue Optometry
OB Beans
OB Brewery
OB Kabob
OB Noodle House Bar 1502
OB Town Council
Ocean Beach Antique Mall
Ocean Villa Inn
Often Wander at NOON
Peninsula Beacon
Philosopher's Stone
Raglan Public House
Reset Float Therapy
Run For Cover Bookstore
Seams to Me
Shore Thing Pet Supply
Social Syndicate
South Beach Bar & Grille
South Coast Surf Shop
Tanya Joy Skincare
The Black
The Electric Chair
The Inn at Sunset Cliffs
Ulivo
UNO Wireless
Velvet Hair Lounge
Weber & O'Neill, Attorneys at Law
Your Mama's Mug