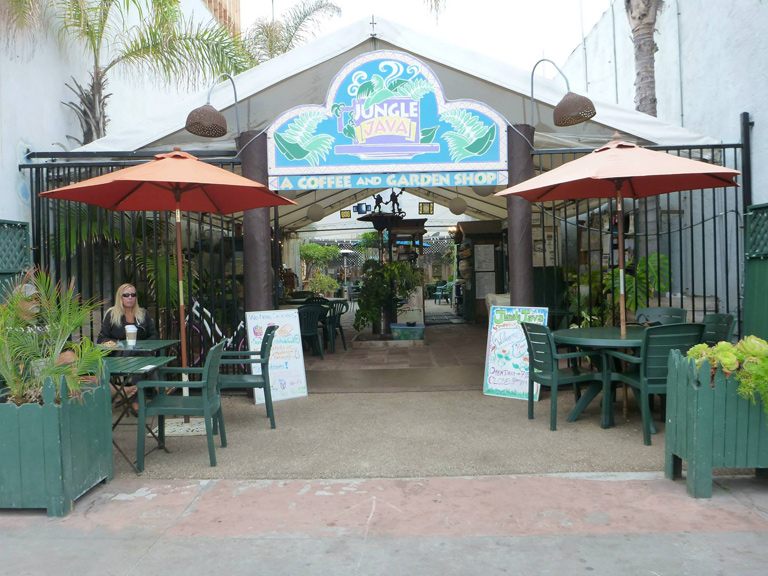 To:  Jungle Java Colleagues, Associates, Customers, Extended Family, and Other Assorted Creatures ,
It has been an incredible ride being the founder and 'Queen of the Jungle' for the last 23 years.  The convergence of several factors has persuaded me that it's time to retire and pass on the crown.  However, I will still be around, living in and loving OB, and the Jungle will live on!
Gregg Caledonia is taking on the Jungle crown.  It's a perfect fit! Gregg is a local Obecian, surfer, and family man.  His positive energy will bring a new vitality to the Jungle.  He intends to modernize and improve the business  while keeping the essence of what we have.  Gregg loves OB and respects its history.  He also understands the culture we have created in the Jungle and he is anxious to continue our spirit of loyalty and commitment to the community.  I am confident that he will wear the crown wisely.
I am proud to hand over the Jungle with a fabulously dedicated and seasoned team. They have all stepped up to the plate, and are committed to the continuity and future of the Jungle. I know they will continue to provide the same quality and service, as well as all of the intangibles that make each of them so awesome.  
I cannot give enough thanks to the community of Ocean Beach. It fully embraced the bizarre (at the time) concept of an open-air coffee and garden shop, and the experience of being a part of the business community over the last almost quarter century has expanded me beyond my wildest imagination.  
I am wholeheartedly grateful for all of the generosity, support, help, volunteerism, time and efforts that so many of you have given, in so many ways, over so many years. Because of all of you, inside the Jungle felt much more civilized than outside of our gate!  It may have started with my dream, but it soon became a product of all of you who have cared enough to shape it, add to it, and make it so much more than a coffee shop!
Keep the Jungle rockin'!
Beth Turner