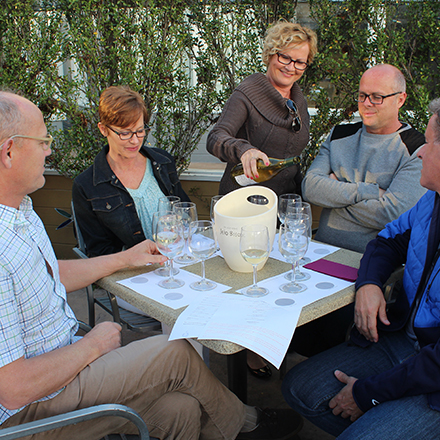 The Wine Pub to Award Four Homegrown Community Heroes
Small business celebrates seven years by spotlighting Ocean Beach, Point Loma do-gooders
October 20, San Diego, CA – Seven years ago, The Wine Pub opened its doors as the go-to place for neighbors to gather, unwind and cheers. Next month, the local wine bar and restaurant dedicates its seventh anniversary to four community-nominated heroes who make Point Loma and Ocean Beach shine.
"Celebrating our anniversary only seems right when honoring the heroes that make this community a desirable place to live, work and play," says Sandy Hanshaw, owner of The Wine Pub. "We love this neighborhood because it's full of folks that fly under the radar, quietly making our lives easier and our community better."
This year's Homegrown Community Heroes include:
•    Devon Lantry, Ocean Beach resident, for trailblazing a web of community gardens where he works and lives in Ocean Beach. When he isn't telling inspiring stories of local nonprofits and businesses, he is growing all types of vegetables to provide free food to those in need. He's inspired others in the community to create community gardens.
•    Nicole Burgess, Ocean Beach resident, for her diligent work to make the community a bike and pedestrian haven. She has strong determination to improve roads for two-wheeled travelers on Wabaska Drive that will make the commute for children biking to Dana Middle School, and commuters heading to and from downtown, safer and more accessible.
•    Stasi McAteer, Ocean Beach resident, for opening her home and building relationships with everyone around her. Stasi is instrumental in organizing the local Buy Nothing Project, where neighbors connect through a gift economy, and hosts Friday Family Meals at her house to gather the community and cultivate local friendships.
•    Tony Jeffreys, Point Loma resident, for dedicating his life to keeping the community of Point Loma safe. Tony has spent decades working for the San Diego Fire Department in Point Loma at Station 22.
On Monday, November 7, from 6 p.m. to 8 p.m., The Wine Pub invites families, friends and pooches of its five heroes to celebrate under the stars. Guests will enjoy wine, dessert and heartfelt speeches while The Wine Pub blows out a candle in the shape of a number seven.
Visit www.thewinepubsd.com to learn more about The Wine Pub—where the community comes together for great wine and even better company.
###
THE WINE PUB brings neighbors and friends together for a simply elegant dining experience in a cozy environment. With an extraordinary selection of handpicked wine, craft beer and gourmet menu, The Wine Pub has quickly become a local home away from home for all those who love living in Point Loma. http://www.thewinepubsd.com