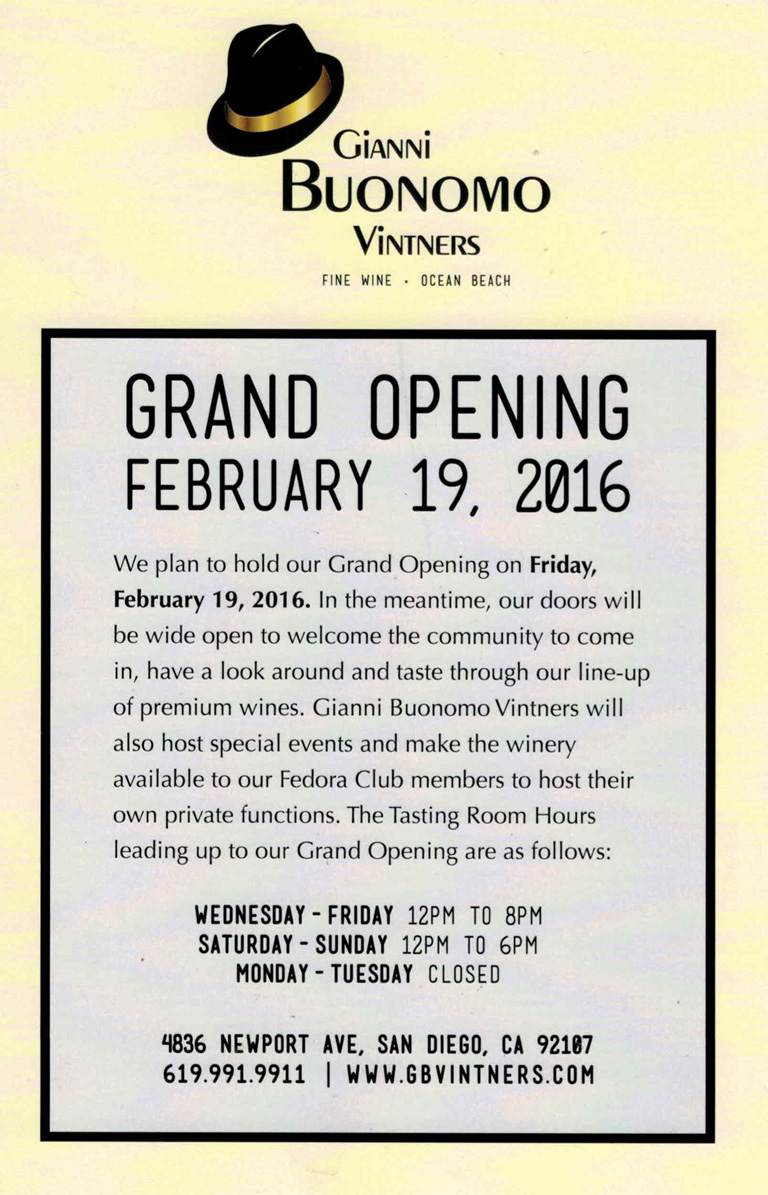 From Gianni Buonomo Vintners:
We plan to hold our Grand Opening on Friday, February 19, 2016. In the meantime, our doors will be wide open to welcome the community to come in, have a look around and taste through our line-up of premium wines. Gianni Buonomo Vintners will also host special events and make the winery available to our Fedora Club members to host their own private functions. The Tasting Room Hours leading up to our Grand Opening are as follows:
Wednesday - Friday 12PM to 8PM
Saturday - Sunday 12PM to 6PM
Monday - Tuesday CLOSED
4836 Newport Ave, San Diego, CA 92107
619-991-9911 | www.gbvintners.com
Please make sure to mark your calendar for our Grand Opening! Friday, February 19, 7 p.m. to 10 p.m.
This gala event will feature select wines from the Gianni Buonomo line-up paired with small plates from some of the top restaurants in Ocean Beach.
 
•    Wines from the Gianni Buonomo label:
2012 Blaufränkisch & 2012 Sangiovese
•    Wines from the Gianni Bianco label:
2014 Symphony & 2014 Sauvignon Blanc
•    An EXCLUSIVE, pre-release of our newest label, Gianni California, featuring:  
2013 Barbera & 2013 Zinfandel
Food
All the wines will proudly be paired with delectable small plates from some of our community's finest restaurants. They include:
OB Warehouse, Raglan Public House, OB Noodle House, Ranchos Cocina and more.
Entertainment
Our winemaker, Keith Rolle, will be introducing, explaining, and discussing the current vintages as well as answering your questions about our wines and the winery.
How to Reserve your Spot at the Grand Opening
Ticket Sale Information
•    Tickets available for purchase NOW!
•    Tickets for this gala event are limited to 100.   
•    Limit of two tickets per purchase.  
•    Tickets will be exclusively available ON-LINE (no tickets sold at the tasting room/event).