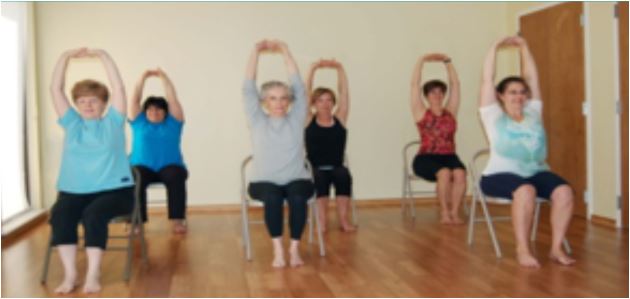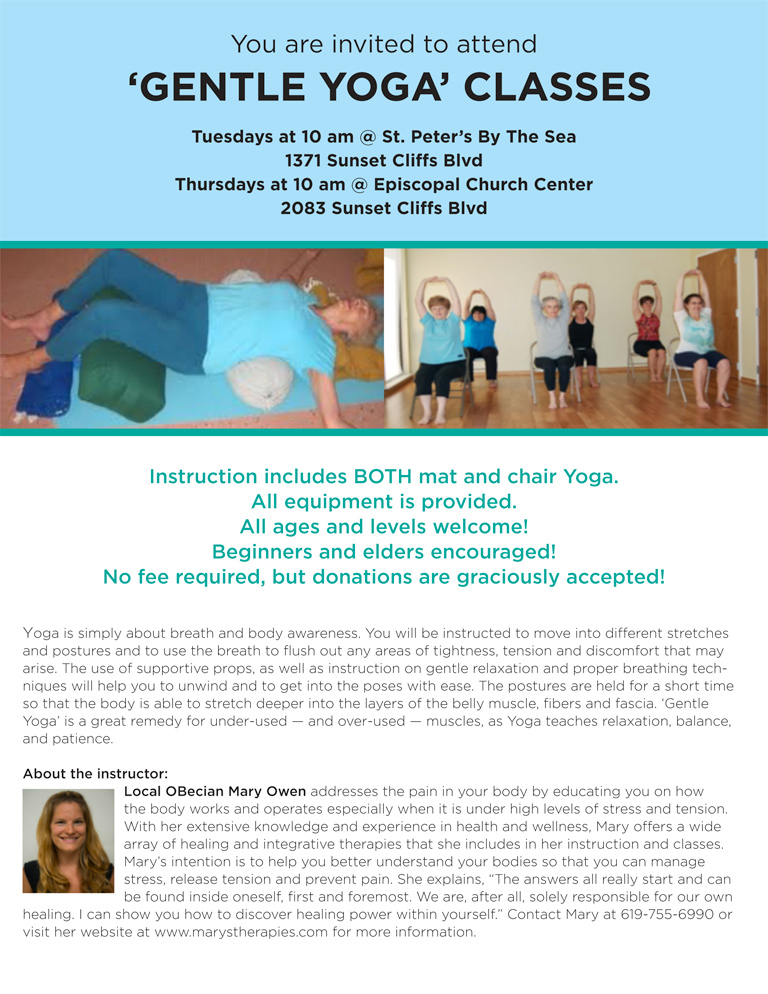 You are invited to attend
'GENTLE YOGA' CLASSES
Tuesdays at 10am at St. Peter's By the Sea
1371 Sunset Cliffs Blvd
Thursdays at 10am @ Episcopal Church Center
2083 Sunset Cliffs Blvd
Instruction includes BOTH mat and chair yoga.
All equipment is provided.
All ages and levels welcome!
Beginners and elders encouraged!
No fee required, but donations are graciously accepted!
Yoga is simply about breath and body awareness. You will be instructed to move into different stretches and postures and to use the breath to flush out any areas of tightness, tension, and discomfort that may arise. The use of supportive props, as well as instruction on gentle relaxation and proper breathing techniques will help you to unwin and to get into the poses with ease. The postures are held for a short time so that the body is able to stretch deeper into the layers of the belly muscle, fibers, and fascia. 'Gentle Yoga' is a great remedy for under-used -- and over-used -- muscles, as Yoga teaches relaxation, balance, and patience.
About the instructor:
Local OBecian Mary Owen addresses the pain in your body by educating you on how the body works and operates especially when it is under high levels of stress and tension. With her extensive knowledge and experience in health and wellness. Mary offers a wide array of healing and integrative therapies that she includes in her instruction and classes. Mary's intention is to help you better understand your bodies so that you can manage stress, release tension, and prevent pain. She explains, "The answers all really start and can be found inside oneself, first and foremost. We are, after all, solely responsible for our own healing. I can sho wyou how to discover healing power within yourself." Contact Mary at 619-755-6990 or visit her website at www.marystherapies.com for more information.