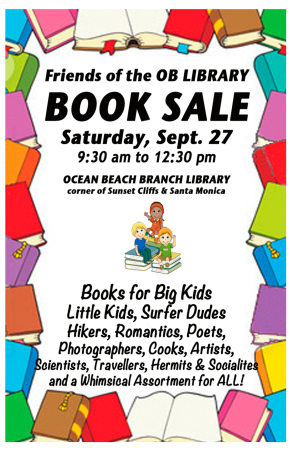 The Friends of the OB Library Fall Book Sale will take place on Saturday, Sept. 27 from 9:30am to 12:30pm.  It will take place at the OB Library - 4801 Santa Monica Ave., OB 92107.  Participate in the book sale in any of the following ways:
DONATE - your used books and audiovisual materials to the sale by dropping them at the library, they are accepting donations now.
SORT - participate in preparations for the sale by showing up to to sort books on Friday, Sept. 26th from 1:00-3:00pm...or until the sorting is finished.  Sorting will take place in the Children's Section of the library....if the Friday time doesn't work you can always volunteer before, during or after the actual sale itself as well.
BOOK SIGNING EVENT - Kathy Blavatt and members of the OB Historical Society will be on hand to sign and sell the fabulous new hist of Ocean Beach Book.  The books are $21.99 and a fabulous photo view of the community's history.