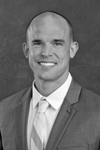 Edward Jones News Release
---
| | |
| --- | --- |
| FOR IMMEDIATE RELEASE | Contact: Erik Karlson |
| January 16, 2015 | (619) 223-8357 |
Erik Karlson Takes Over Local Edward Jones Branch Office
Erik Karlson has been named to take over the local Edward Jones office located at 5083 Santa Monica Avenue, Suite 1A San Diego, CA 92107, the firm announced.
"We're very proud to have Erik Karlson represent us in Ocean Beach," said Jim Weddle, the firm's managing partner. "The people of this community have grown to rely on our firm for their investment needs, and I am confident Erik Karlson will continue our outstanding tradition by providing one-on-one service to our clients."
Jocelyn is serving the branch office as branch office administrator. "I am very excited about working with Erik," said Jocelyn. "Together we will provide investors with unparalleled personal service."
Erik said he is enthusiastic about taking over the branch office. "I joined this firm because I was impressed with its commitment to individual investors," he said. "Now I'm looking forward to meeting with the individuals here to help them meet their financial goals."
Edward Jones, a Fortune 500 company, provides financial services for individual investors in the United States and, through its affiliate, in Canada. Every aspect of the firm's business, from the types of investment options offered to the location of branch offices, is designed to cater to individual investors in the communities in which they live and work. The firm's 13,000-plus financial advisors work directly with nearly 7 million clients to understand their personal goals -- from college savings to retirement -- and create long-term investment solutions that emphasize a well-balanced, diversified portfolio. Edward Jones embraces the importance of building long-term, face-to-face relationships with clients, helping them to understand and make sense of the investment options available today.
Headquartered in St. Louis, Edward Jones ranked No. 4 overall in FORTUNE magazine's 2014 100 Best Companies to Work For ranking. Visit our website at www.edwardjones.com and our recruiting website at www.careers.edwardjones.com. Follow us on Twitter @EdwardJones. Member SIPC. FORTUNE and Time Inc. are not affiliated with and do not endorse Edward Jones products or services.
###