Dear Permittees,
The County of San Diego Public Health Officer announced on November 10, 2020, that the County's adjusted case rate rose above 7.0 cases per 100,000 for a second week, keeping the region in the state's most restrictive COVID-19 level, Purple Tier, or Tier 1. Effective Midnight, Friday, November 13, 2020, under Tier 1, restaurants, gyms, churches, theaters, and other locations are to discontinue indoor operations. As a result, indoor dining is prohibited. Outdoor dining, drive-thru, take out and to-go service operations are allowed and can continue operating.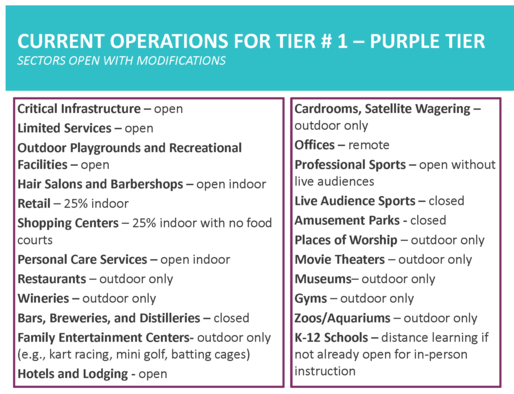 Please continue to take all the following necessary precautions to slow the spread of COVID‐19:
Wear face coverings.
Physically distance six feet when possible.
Frequently wash your hands.
Stay home if you're sick.
Follow industry specific guidelines for COVID‐19.
Review your onsite Safe Re‐opening Plan or Food Facility Protocols, and if necessary, update it to be consistent with the new requirements.
We appreciate your continued commitment to protecting public health. If you have questions regarding this information or your operation, please contact our duty information specialist at (858) 505‐6900 or email at [email protected].
For updated information about COVID‐19, including resource documents such as frequently asked questions, informational posters, and guidance, please visit www.coronavirus‐sd.com. You can also text COSD COVID19 to 468-311 to get text alert updates or follow SDCountyHHSA on Facebook or @SDCountyHHSA on Twitter.
Sincerely,
Department of Environmental Health
Food and Housing Division
---
Learn more about the County of San Diego - Food and Housing Division.
Environmental and public health through leadership, partnership and science.