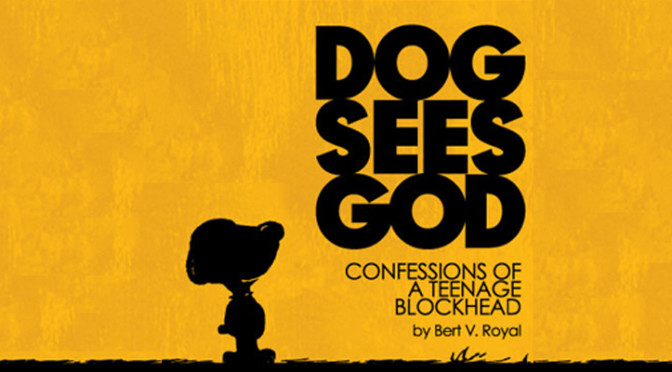 Dog Sees God: Confessions of a Teenage Blockhead
By Bert V. Royal
Directed by Juztine Tuazon-Martin
Produced by OB Playhouse & Theatre Co.
The teenage years have rained down hard on the beloved Peanuts gang. CB is in mourning over the passing of his beloved dog. His best friend is too burnt out to provide any moral support; his little sister has gone from born-again to goth; his girlfriend has been locked up behind padded walls, and his other friends are too preoccupied with partying to care. Things start to look up when he meets a bullied artistic soul who provides the friendship he needs to navigate these tumultuous teen years; but the drug use, suicides, eating disorders, violence, and sexual confusion circling around the group leads him to a beautiful and haunting ending.
"A welcome antidote to the notion that the Peanutsgang provides merely a slice of American cuteness." -NY Times
"Inventive, raunchy, hysterically funny." -NY Post
This production of Dog Sees God is the first play produced by OB Playhouse in the three years they have produced live musicals in OB.  Running in rep with the musical You're A Good Man, Charlie Brown, audiences are in for an eye-opening look into the lives of these classic comic-strip characters.
Dog Sees God is rated M for adult language and mature content.
April 18th-May12th
Thursdays & Saturdays @ 8:00pm
Sundays @ 7:00pm
General Admission $28
VIP Front Row $42
CAST
Chris Bona:  CB
Jacquelynn Nguyen:  CB's Sister
Andrew Aguilar: Van
Daniel Toosi: Matt
Shaun Lim:  Beethoven
Courtnee Dempsey: Marcy
Ashley Graham:  Tricia
Caitlin Helms:  Van's Sister
Seating is first come, first served. Late Arrivals 15 minutes past showtime will not be admitted into the performance.
*Tickets are nonrefundable*
Lobby opens one hour before curtain. Seating begins 30 minutes before show time, first come first served. Late arrivals will not be seated 15 minutes after performance begins.
To purchase tickets, Click Here
Event Site:
https://www.obtheatrecompany.com/dog-sees-god--confessions-of-a-teenage-blockhead.html