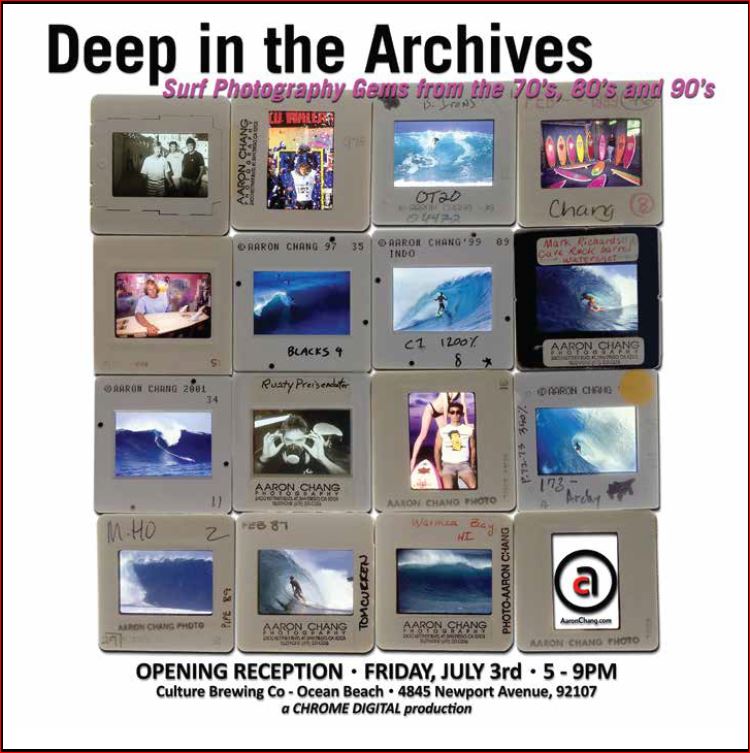 Deep in the Archives: Surf Photography Gems from the 70's and 80's
Aaron Chang is bringing back some of his most iconic images from the wild‐west days of surfing on the North Shore of Hawaii.
Aaron Chang Ocean Art Galleries and Culture Brewing Co announce an exhibition of photographs from the archives of surf photography legend, Aaron Chang. The show will feature iconic surfing photos spanning 4 decades. Some never before seen images will be unveiled in this unique show by award winning, master photographer, Aaron Chang.
"I was surprised and excited pulling photos for this show. Some of the images I had long assumed were lost I uncovered buried in the archives. It is remarkable to see a collection of so many epic moments and people in one group of images. I'm really looking forward to seeing this show up on the wall," says Chang.
The show will be hung at Culture Brewing Co at 4845 Newport Avenue in Ocean Beach on July 3, 2015, and will remain on display for the month. On July 30th, a selection of Chang's prints will be auctioned to benefit I Love a Clean San Diego at a fundraiser held also at Culture Brewing Co ‐ Ocean Beach. Local community advocates, like‐minded businesses, and fans of Chang will gather to raise awareness and exude their passion for our coastlines through giving back to I Love a Clean San Diego; Culture Brewing Co will donate portion of their proceeds from the evening's event in addition to Chang's selection of auctioned prints.
More on I Love a Clean San Diego:
As San Diego's most influential advocate for sustainability, I Love A Clean San Diego (ILACSD) is an environmental catalyst, inspiring and empowering all of us to improve the health and beauty of our cities, neighborhoods and the local environment. Through events, outreach and education, they work to encourage stewardship, energize cleanup efforts, and beautify beaches, canyons, waterways and urban spaces. More on ILACSD here.
"I Love A Clean San Diego looks forward to partnering with Culture Brewing Co and Aaron Chang to showcase the beauty of our natural environment through photography," says Pauline Martinson, the organization's Executive Director. "We hope that the event will ignite a fire in everyone to take action to protect the health and beauty of our coastline."
More on Culture Brewing Co:
At Culture Brewing Co we understand the importance of community, and our efforts strive to support those in which we belong. We have been hosting non‐profit fundraisers since our inception to be able to do exactly that. Our tasting rooms offer a place where individuals can experience culture in a variety of ways, more specifically through unified efforts to contribute to the greater good of our communities. We look forward to collaborating with I Love a Clean San Diego and Aaron Chang on our passion for community, protection of our coastlines, and iconic photography that brings them together.
For more information, please contact:
Culture Brewing Co ‐ Carole Busby carole@culturebrewingco.com / 910‐685‐4136