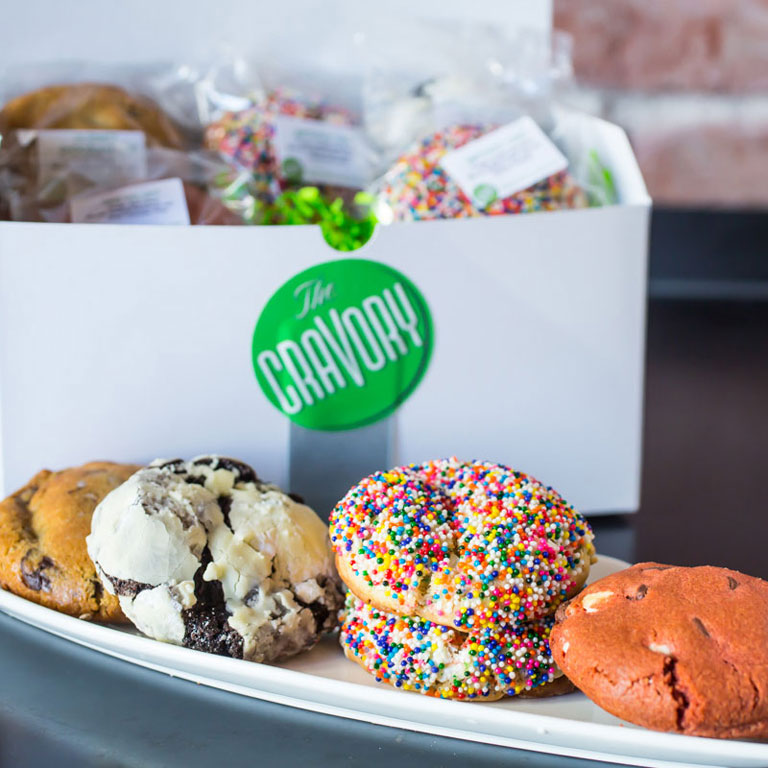 Congratulations to the OB Farmers Market mainstay, The Cravory, for the recent opening of their first storefront located at 3960 W. Pt. Loma Blvd., San Diego, CA 92110.  Don't you worry - even though they have had great success at their storefront location (opening over Valentine's Day weekend was a great idea!), you can continue to enjoy them at the OB Farmers Market and purchase them from several local businesses. To learn more about them, read the excerpt from their website below:
The Cravory cookies are the ultimate cookie experience, with a soft cookie center and perfectly baked surface that provides both a gooey and crisp cookie eating venture. The Cravory was co-founded in 2009 by three young entrepreneurs, Adam Koven, Nate Ransom, and Derek Jaeger who are extremely passionate about food and absolutely addicted to cookies. Over the cupcake craze and all about texture, they set out to fulfill their dream of creating a cookie company that would allow customers to indulge in a playful luxury that satisfies both the sweet and savory taste buds of cookie lovers, with an edge.
Crafted from only the finest ingredients and gourmet flavor combinations, The Cravory has raised the bar on unique cookie recipes and traditional offerings by continually creating cookie flavors that are unexpected and totally delicious. Set to open their first cookie shop this fall in San Diego, The Cravory continues to develop innovative cookies while staying true to the fun and comfort found in eating a freshly baked cookie.
Visit them online by clicking here.