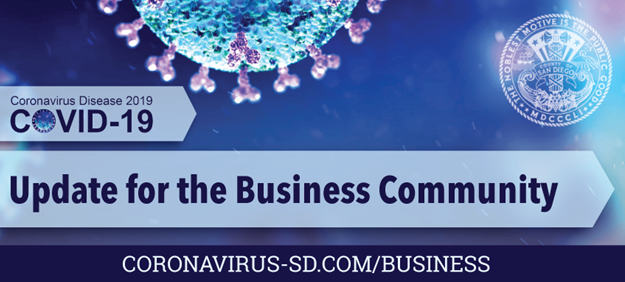 On December 18, 2020, the 4th District Court of Appeals issued a stay, blocking the San Diego Superior Court Judge's ruling to allow live entertainment venues and restaurants to reopen. Restaurants must again shut down for indoor and outdoor dining and follow the State Regional Stay-at-Home Order, and the County Health Officer Order.
Click here to read the full article
---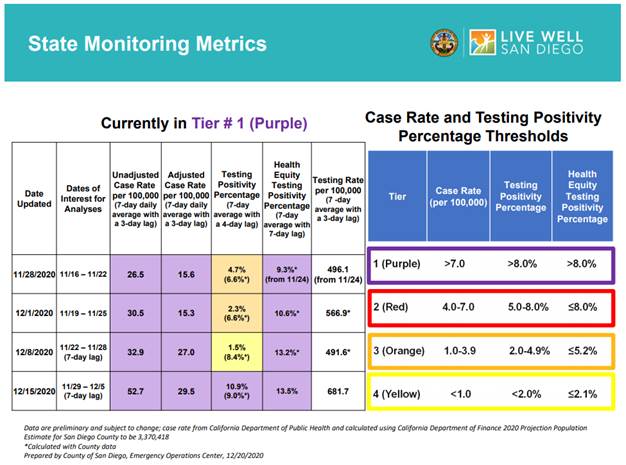 ---
Stay connected during the Coronavirus (COVID-19) public health pandemic. View and share English and Spanish resources that will help you stay up to date on all COVID-19 related issues as they emerge.
Check out the new Business Referral Guidelines during the Coronavirus (COVID-19) public health pandemic. View and share helpful resources and learn how the Business Sector can help.
---
General public: to report health order violations, call (858) 694-2900 or email [email protected]. Includes reporting businesses that are open and have been ordered to close.
Employers: to notify the County of an employee with COVID-19 at your site, complete the online COVID-19 Notification Form. Please have the following information ready: person's name, date of birth, and contact information.
---
Business Updates
Local Updates
Testing
COVID-19 Testing Schedule Changes (subject to change; All schedule changes will be posted to the testing website 5 days in advance)
December 24th
County Fire – Fallbrook Regional Health District site will be open from 9 AM – 3 PM

State sites have normal hours (7 AM – 7 PM)

All other County sites will close by 4 PM
Sycuan sites closed
December 25th
USD and Cal State San Marcos sites will be open from 10:30 AM – 2:30 PM
County Fire – Rancho San Diego Monte Vista Headquarters will be open from 10 AM – 2 PM
Tubman Chavez will be open 10:30 AM – 2:30 PM

All other County sites will be closed
Sycuan sites closed
State sites closed
Champions for Health is offering free influenza immunizations to targeted communities, in partnership with the County of San Diego Health and Human Services and United Healthcare. These efforts are part of our ongoing programs that provide preventative and specialty medical care to underinsured and uninsured populations in the San Diego region. In 2019, we provided residents with 3,063 free flu vaccinations.
Upcoming dates and locations for free flu vaccinations:
Friday, 1/15/2021, 8:00 AM – 12:00 PM

Mexican Consulate, 1549 India St, San Diego, CA 92101

Thursday, 1/21/2021, 10:00 AM – 2:00 PM

El Cajon Valley School, 1035 E. Madison Ave, El Cajon, CA 92021

Friday, 1/29/2021, 8:00 AM – 12:00 PM

Mexican Consulate, 1549 India St, San Diego, CA 92101
---
Federal Updates
Congressional leaders are scheduled to vote today on a $900 billion relief plan that includes more aid to small businesses, a second stimulus check directly paid to Americans, streamline COVID-19 vaccine distribution funding, and additional unemployment insurance supplement.
Click here to learn more about what this new package means for businesses
Click here to view the full 5,593-page bill (12/21/2020)
---
COVID-19 Vaccine Updates
The County of San Diego created a webpage about the COVID-19 vaccine. Here you can learn more about: how the vaccine works, the safety of the vaccine, the phases that the vaccine will be administered, and more.
CA Expecting 672,000* doses of Moderna Vaccine This Week
On December 20, our Western States Scientific Safety Review Workgroup confirmed the Moderna COVID19 vaccine is safe for public use.
*110,000 have already arrived in CA as of December 21st
FDA Statement on Moderna Vaccine
On December 17, following the positive advisory committee meeting outcome regarding the Moderna COVID-19 vaccine, the U.S. Food and Drug Administration has informed the sponsor that it will rapidly work toward finalization and issuance of an emergency use authorization.
82K San Diegans Are First in Line to Get COVID-19 Vaccine
About 82,600* San Diegans who work at acute health care settings will be the first to get vaccinated against the novel coronavirus.
*70,258 doses administered as of December 21st
---
News For Businesses and Employers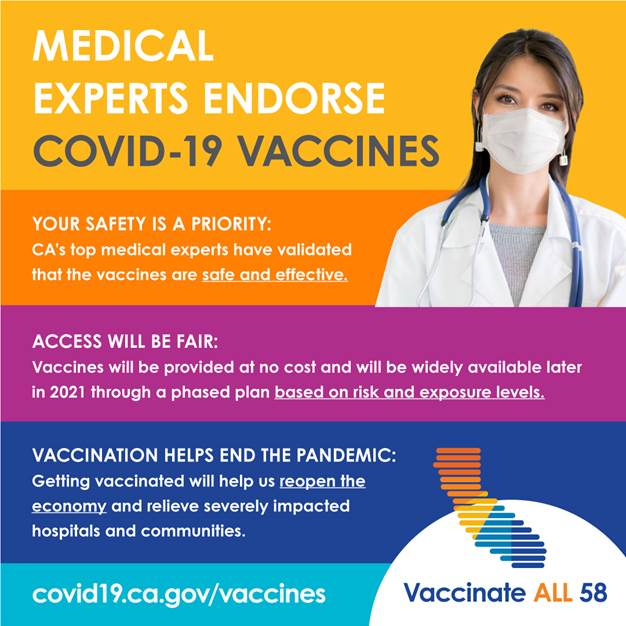 ---
To request English or Spanish posters for your business, please e-mail [email protected] with the following details:
Contact Information (Name, Phone, Email)
Language materials needed English, Spanish, or both
Number of requested items
Address for postal delivery
Additional resources and materials are available here for your use.
---
Stay Informed, Stay Connected
Coronavirus in San Diego County
Daily updates on positive cases
FAQs, posters, videos, and other materials
Information for businesses and commercial entities
Submit Your Telebriefing Questions
Submit Safe Reopening Plan Questions
Text COSD COVID-19 to 468-311 to get text alert updates from the County of San Diego.