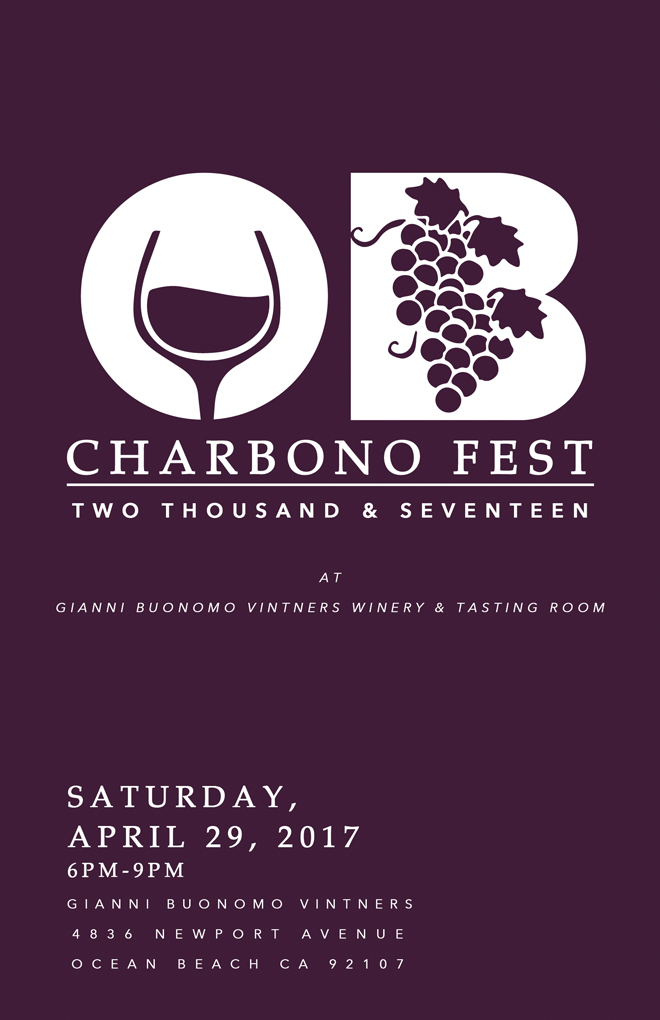 Near Extinct Cult Wine Emerges in San Diego
Beach Winery Celebrates Release of Charbono
In a state where Chardonnay, Cabernet and Zinfandel are kings, the nearly extinct Charbono is taking center stage in San Diego at Gianni Buonomo Vintners in the coastal community of Ocean Beach.  With fewer than 70 total acres planted to this rarity, Charbono is truly a cult wine.
Once a darling of the Napa Valley, Charbono was the go-to wine at the venerable Inglenook from the 1940s through the 1960s.  Inglenook produced Charbono from the late 1800s until the vineyard and estate were sold in 1998 to Francis Ford Coppola.  In Napa, Cabernet means cash and consequently Charbono was jettisoned.  Today, only about 17 wineries, all in California, do small productions of Charbono. Gianni Buonomo Vintners in San Diego is one of them.
San Diego winemaker Keith Rolle stumbled upon these elusive grapes back in 2014 when trying to source Barbera in El Dorado County. "I must have called 20 wineries looking for Barbera. I finally connected with Doug Liesz who told me he didn't have any Barbera, but he did have some Charbono. I flew to up to Sacramento the next day, rented a car, drove to Placerville and signed a grape contract with Doug."
The 2014 Gianni Buonomo Charbono is a delight. Deep ruby in color, it delivers a bold, rustic and dusty essence of ripe black cherry with a delicate sweetness of lightly toasted oak. An enduring, silky-soft finish pleases everyone who loves a great glass of well-made red. "It's like nothing I've ever tasted," exclaimed San Diego ophthalmologist and wine fanatic, Chris Gualtieri. "Once you taste it, you won't want to drink anything else. It's that amazing!"
What:  Charbono Fest
When:  Saturday, April 29, 2017
  6:00PM to 9:00PM
Where:  Gianni Buonomo Vintners Winery and Tasting Room
  4836 Newport Ave.
  San Diego CA 92107
Tickets:  $35.00
  http://charbono.brownpapertickets.com
Gianni Buonomo Vintners is San Diego's only fully-functioning beach winery. Just steps from the Pacific surf in the heart of Ocean Beach, Gianni Buonomo sources super-premium grapes from both El Dorado County CA and Washington state. Grapes are brought the beach to vinify, barrel age, blend, bottle and serve in a line-up of truly exceptional wines.