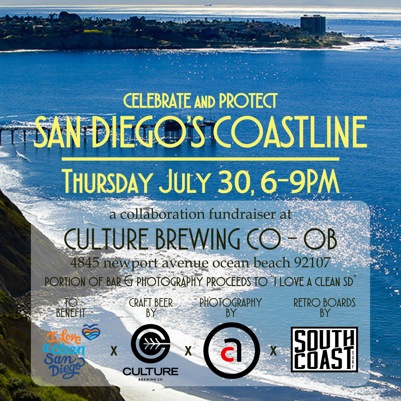 Photo Exhibition at Local Tasting Room Benefits a Clean San Diego
Culture Brewing, Photographer Aaron Chang, and I Love A Clean San Diego join forces for good
I Love A Clean San Diego is known for its far-reaching cleanups and longstanding work to protect San Diego's beloved beaches, bays, and canyons, having served the region for more than 60 years. Community members and the media are encouraged to get to know I Love A Clean San Diego outside of the typical cleanup by attending an upcoming Give Back Night. Guests can help protect the environment and get to know ILACSD over a pint of beer at Culture Brewing Co. Tasting Room in Ocean Beach. While there, attendees will be able to view rarely seen photographs and art from local ocean photographer, Aaron Chang. This tribute to our coastline will be held on Thursday, July 30, from 6:00PM to 8:00PM. Proceeds from beer sales and raffle tickets will benefit ILACSD's growing pollution prevention programs. This event is free and open to the public - no ticket or RSVP necessary to attend.
"I Love A Clean San Diego looks forward to partnering with Culture Brewing and Aaron Chang to showcase the beauty of our natural environment through photography," says Pauline Martinson, the organization's Executive Director. "We hope that the event will ignite a fire in everyone to take action to protect the health and beauty of our coastline."
I Love A Clean San Diego activates more than 28,000 volunteers each year and encourages all San Diegans to take personal responsibility for the health of the local environment. On Saturday September 19, the organization will host its annual Coastal Cleanup Day, mobilizing 7,500 volunteers at 100 cleanup sites countywide. More about I Love A Clean San Diego is available online.
About I Love A Clean San Diego: As San Diego's most influential advocate for sustainability, I Love a Clean San Diego (ILACSD) is an environmental catalyst, awakening passion and inspiring action, empowering everyone to improve the health and beauty of our local environment. For over sixty years, we've brought the best in all of us together for a lasting, positive impact on our region. We are passion in action. Learn more at www.CleanSD.org.