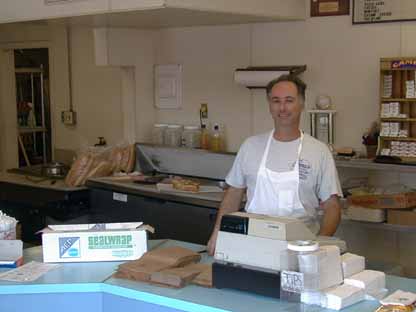 Taken from the San Diego Union Tribune obituary on a Point Loma legend. 
Poma, Leonard Joseph 10/04/45 - 03/06/13 EL CAJON
Born to Pauline and Joseph Poma of Ocean Beach, CA. Raised in Clairemont, Leonard was an avid bowler as a young man in many tournaments, played accordion and piano and enjoyed cooking. He grew up in a loving Italian family. His parents came to San Diego in the mid-1940s. Leonard's mother was a beautician and activist. Leonard's father was a barber on the corner where Poma's Deli stands today. In 1965, Poma's Deli opened on the corner of Bacon and Niagara near the Ocean Beach pier. Leonard was active for six years in the National Guard serving his country, and at the same time helped his mother run Poma's Deli; eventually running the Deli himself making it the successful business it is today. Leonard's son, Nick, continues the family business at the Deli today. He loved to golf, was a member of IAGA, the Italian American Golf Association. In continuing in service to his communities, he was a volunteer in the California Highway Patrol Senior Volunteer Program, as well as a member of the UNICO organization. Leonard was a devoted Chargers Fan. He was a member of Gateway Church in El Cajon. Leonard loved everything Italian, he was proud of his heritage. He loved God and family. He was a gentleman and a generous person. He is survived by his wife Joann, son Nick and wife, stepdaughter Rosanne and husband, mother-in-law Rosalie DeFalco, brother-in-law John and his wife, sister-in-law Sandra and husband, 3 grandsons, 1 granddaughter, nieces, nephews and many wonderful friends. Please consider donations made to Sharp Grossmont Foundation in Leonard's name for the excellent care he received. Please call 619-740-4200. Services will be held at Gateway Church on Thursday, March 14th, at 11:00 a.m., reception following at 1280 N. Johnson Ave., El Cajon, CA.