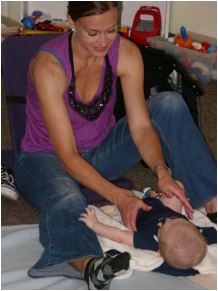 Touch is your baby's first language with many benefits for you and your baby. In this class we explore the techniques to soothe colicky or fussy babies to help baby sleep better, create a routine for bonding with baby for the well-being of moms and dads, and skills to reduce stress and promote relaxation. Classes run for one hour and a half for four weeks so your baby gradually adjusts to your nurturing touch. Infant massage provides stimulation for all the systems of the body for healthy growth and development. Hormones released from touching help your baby relax and possibly sleep better. Touch can help reduce pain. Tummy strokes can help relieve discomfort from gas, colic, and constipation. The touching and loving interaction promotes bonding and trust for secure attachment. Parents will feel more aware and responsive to their baby's cues, feel a closer and stronger bond, help to relax and ease stress, and enjoy getting to know other new parents. Space is limited.
4 classes - $120
Saturdays at 10am-11:30am with Melissa Seeley
Begins Saturday April 2nd, 2016
Thursdays at 11:30am-1pm with Robyn McMasters
Begins Thursday April 14, 2016
Location: The Sanctuary Wellness Experience, 1955 Cable St.
Space is limited! For more information or to reserve your space, please contact The Sanctuary Wellness Experience at 619-861-8351.