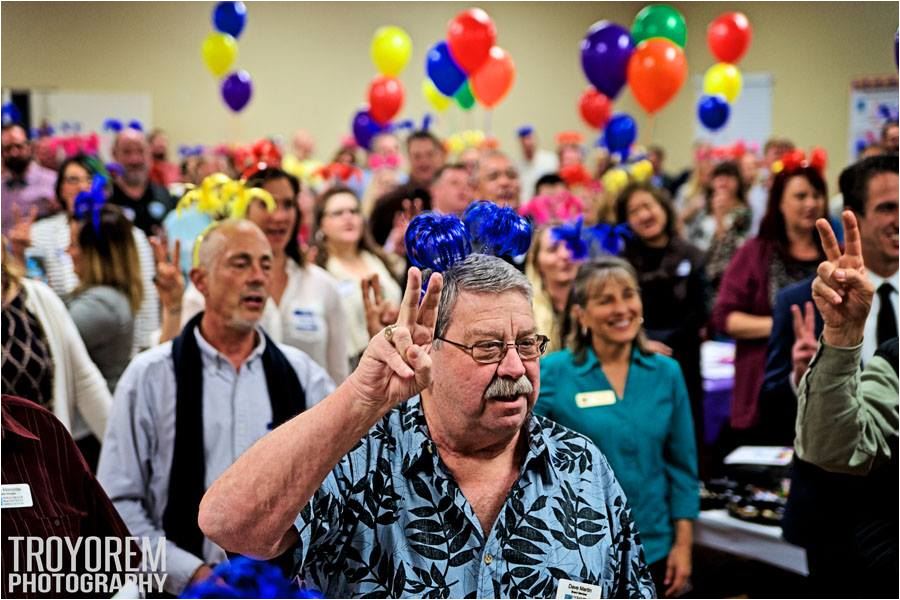 The Ocean Beach MainStreet Association (OBMA) honored members for their contributions to the Ocean Beach community at its annual Awards Celebration on Thursday, Jan. 26., 2017.
The program highlighted events and accomplishments over the past year with a slideshow.
Each year the OBMA committees award individuals and businesses for their contributions to public improvements, public safety, design, promotion, revitalization and expansion within the community. The OBMA members voted on a People's Choice winner in each category while the 'Customer Service Business of the Year' was chosen by the public through online voting.
2016-2017 Awards Winners List
Public Safety Committee
Purpose: To educate merchants & promote a safe & clean environment throughout the Ocean Beach business districts.
National Public Safety for going above and beyond helping to provide a safe environment throughout the commercial districts of Ocean Beach
OB Graffiti Task Force: Delinda Lombardo; Kevin Hastings – for addressing graffiti through their grassroots volunteer efforts
OSCCO for taking the time and working to beautifying the commercial areas in Ocean Beach
SDPD: Keith Lucas, Assistant Chief of Police; Lt. William Carter – for their outstanding work throughout the OB community
The Public Safety Committee's People's Choice Award went to…SDPD
_________________________________________________________________
Design Committee
Purpose: To identify and develop design programs needed for public improvements throughout the business community and to assist business/property owners with design education & technical assistance as requested.
BBQ House (5025 Newport) for their extensive remodel and addition of more outdoor seating
Belching Beaver (4836 Newport Ave) for renovating their interior with an OB vibe and updating their signage
Chapter One Tattoo (4857 Newport) for their interior and exterior remodel to highlight their high-end shop
Helm's Brewing Co (4896 Newport) for their interior and exterior remodel at their new location
Law Offices of Jerry Cluff (1951 Cable St) for their interior and exterior remodel and beautiful drought-tolerant landscape
OB Barbershop (1917 Cable St) for their shop relocation and updated store sign
OB Brewery (5041 Newport) for turning a vacant building into a hip, local brewery with amazing views
Pasas Properties (1991 Sunset Cliffs Blvd) for their clean and modern interior and exterior remodel
SD Bay Flower Co/Thistle (4822 Santa Monica Ave) for their interior and exterior remodel that includes the addition of a garden center
South Beach Bar & Grille (5059 Newport) for their stunning ocean-view 2nd floor deck remodel
Sunshine Co Saloon (5028 Newport) for remodeling their interior, including their unique restrooms
The Sanctuary Day Spa (1955 Cable St) for their exterior signage and beautification
Trendsetters Salon & Beauty Boutique (4956 Newport Ave) for remodeling their luxurious new salon
Velvet Hair Lounge (4885 Newport) for their rich interior and exterior remodel
Wonderland Ocean Pub (5083 Santa Monica) for adding a beautiful aquatic mural to the exterior of their building
WOW Cafe on the pier for their exterior upgrades, paint, and new patriotic sign
The Design Committee People's Choice Award went to…OB Brewery
___________________________________________________________________
Economic Vitality Committee
Purpose: To promote the best use of the existing building, natural, and human resources to ensure the OB's economic viability. This committee's focus is the economic well-being of the OB business districts, including business retention, business recruitment, and cost-analysis studies.
The Holding Company (5046 Newport Ave) for their dedication to fostering a prosperous local economy
Hoy Hoy Boys for being a community partner in the OB Oktoberfest and generously giving back to local causes
OB Playhouse (4944 Newport Ave) for revitalizing a theater and performance space and bringing high-quality creative theater to our community
Wonderland Ocean Pub (5083 Santa Monica) for bringing employment opportunities to the community
The Economic Vitality People's Choice Award went to...Wonderland Ocean Pub
__________________________________________________________________________
Promotion Committee
Purpose: To improve consumer, merchant, & resident confidence in OB through a unified image created by an exciting variety of activities. This committee is dedicated to creating & implementing special events, promoting the business district, & advertising campaigns, as well as the Ocean Beach website OceanBeachSanDiego.com.
Artbox (1919 Cable St) for hosting classes and special events for the community to enjoy
Cohn Restaurant Group – OB Warehouse (4839 Newport) + BO-beau (4996 W Point Loma Blvd) – for utilizing marketing resources to bring attention to OB locations and events
Friends of OB Library (4801 Santa Monica) for hosting and promoting the Library's outstanding Centennial event
The Holding Company (5046 Newport Ave) for creating, hosting, & supporting local events and musical talent while giving back to the community
OB Historical Society for promoting Ocean Beach and producing the informative OB Pier History brochure
The Promotion Committee People's Choice Award went to...OB Historical Society
__________________________________________________________________________
North OB Committee
Purpose: To focus on the continued improvement of the North Ocean Beach corridor.
Mike Hess Brewing Co (4893 Voltaire St) for their dedication to OB and willingness to participate and sponsor community events
OB Woman's Club (2160 Bacon St) for renovating their location, hosting and participating in events, and contributing to the community
Ocean Villa Inn (5142 W Point Loma Blvd) for being a strong voice behind creating the North OB Committee and hosting committee meetings
Surf Rider Pizza (2163 Abbott St) for undergoing a large-sized renovation to help improve OB
TriPower Yoga (2183 Bacon St) for participating the San Diego Storefront Improvement Program to update their location and their unwavering dedication to OB community events
The People's Choice Award for the North OB Committee went to…OB Woman's Club
__________________________________________________________________________
Community Partner Awards
Newbreak Church for participating in so many local activities and their pro-active positive interaction with the community.
Pt. Loma Landscape thanking them for maintaining the plants at the corner of Newport Ave & Sunset Cliffs.
Pt. Loma Masonic Center for generously donating the hall for our event
Union Bank for being our major event sponsor
__________________________________________________________________________
Customer Service Business of the Year Awards
These go to the business that the general public (through online voting) felt best exemplified the spirit of OB by reflecting positive awareness & activity in the community through their exceptional customer service
Catrina Russell - 1st place
Tranquil Home Personnel Service - 2nd place
TYSON - 3rd place
__________________________________________________________________________
Special Awards:
Julie Klein – Sheriff of OB Award - for single-handedly charging forward with our OB Security Program to help protect and inform our commercial district businesses, local shoppers, and visitors alike. This award was presented by Mary Orem to Julie Klein.
Dave Martin – the Mike Hardin Like a Boss Award - This award is presented to an outstanding member of the community who reflects Mike Hardin's spirit, generosity, and love of Ocean Beach. The award was presented by Shane Hardin to Dave Martin.
A huge thanks to all our wonderful event sponsors!