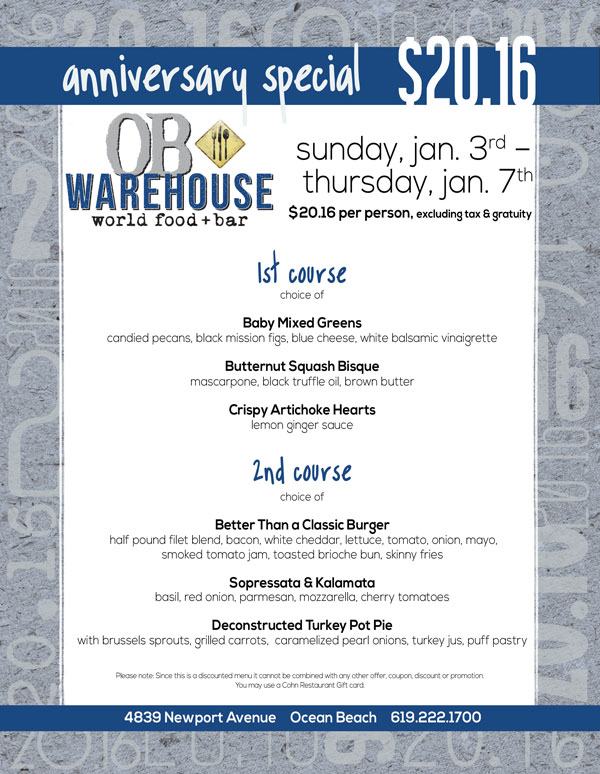 Cohn Restaurant Group celebrates their anniversary by giving you the gift! Try our prix fixe 2-course dinners for only $20.16 or $30.16. 
Sunday January 3rd - Thursday January 7, 2016
1st Course - Choice Of:
-Baby Mixed Green Salad with candied pecans, black mission figs, blue cheese, white balsamic vinaigrette
-Butternut Squash Bisque with Marscarpone, black truffle oil, brown butter
-Crispy Artichoke Hearts with lemon ginger sauce
   
$20.16 /  2nd Course - Choice Of:
-Better Than a Classic Burger
half-pound filet blend, bacon, white cheddar, lettuce, tomato,onion, mayo, smoked tomato jam, toasted brioche bun, skinny fries
-Sopresata & Kalamata
basil, red onion, Parmesan, mozzarella, cherry tomatoes
-Deconstructed Turkey Pot Pie
turkey breast, Brussels sprouts, grilled carrots, caramelized pearl onions, turkey jus, puff pastry
   
$30.16  /  2nd Course - Choice Of:
-Filet Frites
trio of filet medallions, Madeira mushroom sauce, Parmesan herb fries
-Pan Seared Scallops 
Honshimeji mushrooms, wilted greens, butternut squash, Israeli couscous, Ponzu butter
   
Please note: Since this is a discounted menu, it cannot be combined with any other offer, coupon, discount or promotion. You may use a Cohn Restaurant Gift Card.
OB Warehouse is located at 4839 Newport Ave. For more information, contact the restaurant at 619-222-1700.