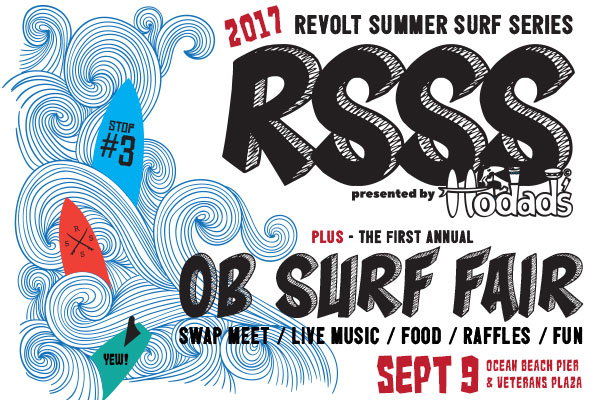 San Diego, August 28 - RVLT Surf announces plans to expand the third stop of the Revolt Summer Surf Series presented by Hodad's to include the 1st Annual O.B. SURF FAIR.
The O.B. Surf Fair will include all things SURFY! A Surf Marketplace, Surfboard Swap Meet, Free Surfboard Appraisals, Live Music, Food & Drinks. Raffles all day long including Kaaboo Del Mar tickets & Great Prize packages from local merchants.
The event is free and open to the public. It takes place on September 9th at Veteran's Plaza alongside the Ocean Beach boardwalk just north of the O.B. Pier from 8am to 5pm.
Decades of salt air and sandy feet passing over the brass markers of the existing Veterans memorial have left most of the plaques on the boardwalk (including a Medal Of Honor recipient) sanded smooth & illegible. Plans to replace the existing memorial with a new Veterans Wall at the north end of the Ocean Beach Boardwalk are in the works now. A portion of the days proceeds will go directly towards the new Veterans Plaza Development.
Local merchants, businesses & brands are invited to set up a booth at The O.B. Surf Fair. South Coast Surf Shop, OB Surf & Skate, Better Surf Than Sorry, Julie Designs, Inn At Sunset Cliffs and other merchants wasted no time enlisting their help for this worthy cause. Unique vendors including Sand Candels, Plum Blossom Apothecary, Pure Envy & Sahara Treasures will add that eclectic, OB Flair to this new event. Everything from Surfboards to Sand Candles will be available at this surf style marketplace.
Check out the Surfboard Swap Meet with USED, RETRO or VINTAGE surfboards & gear to buy, sell or trade. Free surfboard appraisals by Bird Huffman of Birds Surf Shed & The Shed O.B. Listen to live acoustic surf jams courtesy of Rock & Roll San Diego.
Win EPIC Raffles including Kaaboo Del Mar Passes & other great prize packages from local merchants & RSSS sponsors.
NOT TO FORGET: Watch the surfing competition unfold, below on the beach at the 3rd stop of the 2017 Revolt Summer Surf Series - Pier II Pier - Pro Am presented by Hodad's - Scores of the best surfers from southern California & around the globe, will be competing for their share of cash & prizes all day long! Join their families & fans on the sand, just north of OB Pier - directly below the O.B. Surf Fair!
Vendor Packages are available for local retailers, businesses & brands to be included at the O.B. SURF FAIR. Individuals can also purchase Surfboard Swap Meet spaces to display & sell their Used, Retro & Vintage surfboards & gear.
A portion from each vendor fee will be donated to the Veterans Plaza Redevelopment Project. www.obcdc.org.
For more info visit: www.revoltsurfseries.com