Please note several changes have been made to the vendor application process to ensure the event is a success for all vendors and patrons.
ALL applications will be accepted online only. Once your application is submitted and approved, you will receive an email with a link to pay by credit card.
---
The OB Oktoberfest has been a tradition in Ocean Beach for more than 21 years. As usual, we expect large crowds at our fun, colorful beachfront event. We have two exciting areas for vendors. Food Vendors will be in Veteran's Plaza on the grassy area at the foot of Newport Avenue and Abbott St. Merchandise Vendors will have the choice of a 10'X10' space in Veteran's Plaza at a cost of $295 or Saratoga Park at the foot of Saratoga Ave at a cost of $155. The Saratoga Park area includes a stage with family-friendly musical acts and several contests. There will be tables and chairs for the public to enjoy while shopping and enjoying the food vendors.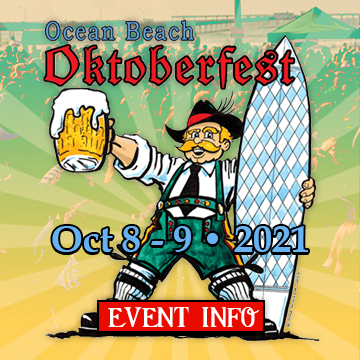 ---
Schedule
Octoberfest General Schedule
Friday, October 8th thru Saturday, October 9th 2021
Vendor Schedule
We only have vendors on Saturday, October 9th
Merchandise & Food Vendors in Veterans Plaza 10am – 11pm
Merchandise Vendors in Saratoga Park  10AM - 6pm
The 21+ Beer Garden will be open from 10:30am-11:00pm in the Pier Parking Lot adjacent to merchandise and food vendor area. Your booth will not be located in the beer garden.
---
Booth Fees
| | |
| --- | --- |
| Merchandise Booth 10' x 10' in Saratoga Park | $155 |
| Merchandise booth in Veteran's Plaza | $295 |
| Food Vendor Booth 10' x 10' (prepackaged or one item) | $595 |
| Food Vendor Booth 10' x 15' (ALL hot food, more than one item) | $750 |
---
Food booth pricing includes:
Environmental Health Department required 3 compartment hot and cold sink.
One trash receptacle and one recycling receptacle dedicated within your booth
Application Process
Applicant: Your application will be considered ONLY after you have completed below and provided your electronic signature. INCOMPLETE APPLICATIONS WILL NOT BE CONSIDERED. If the event is cancelled due to COVID19 or its variances, we will refund booth fees minus a 10% handling fee.  Once a Vendor has been accepted, there will be absolutely NO REFUNDS of vendor fees after October 1, 2021. The No Refund Policy includes situations in which the event is canceled as a result of factors beyond the control of the Event organizers, including but not limited to war, terrorist act, natural disaster, weather, or order of any Civil or Military Authority. Such situations are beyond the control of the Event organizers, and Vendors accept the risk of loss in such a situation. The applicant agrees that stated in the application is an accurate description of materials and literature to be displayed and sold at OB Oktoberfest. Ocean Beach MainStreet Association (OBMA)/OB Oktoberfest Committee shall be the sole judge as to whether or not those materials are suitable for family viewing or in keeping with the general rules and regulations of the Oktoberfest.
The applicant agrees that it is his/her responsibility to carry appropriate insurance. He/she agrees that the OBMA/OB Oktoberfest Committee will not be held liable for legal damages. The OBMA/OB Oktoberfest Committee, a nonprofit corporation, assumes no responsibility for any loss, damage, injury, or claim arising out of the participant's acts or omissions in the OB Oktoberfest. The applicant hereby agrees to hold the Association/Committee, the Directors, and Members harmless from any claim arising out of the applicant's entry, acts, or omissions in said Oktoberfest or any accident, injury, or damage involved therein, including but not limited to attorney fees and court costs.
Booth fees are due upon receiving your vendor acceptance letter via email, which will include a link to pay the booth fee online.
Your booth is not reserved until full payment is made via a credit card online and all required documents are received.
The organizers maintain the right to review all applications, decline any vendors that are not fitting for the event and/or modify the vendor category they fall into. If you are declined a refund will be submitted.
Vendor Merchandise
The Ocean Beach MainStreet Association and/or the OB Oktoberfest Committee shall be the sole judge as to whether an item is suitable to sell according to the general rules and regulations of the OB Oktoberfest. Please note that the following items are not permitted: No – merchandise with the words "OB Oktoberfest" or any other variation thereof; stolen merchandise, firearms, ammunition, alcoholic beverages, or drugs; materials unsuitable for festival attendees. Vendors offering such merchandise for sale will be removed from the event immediately.
Vendor Setup
Setup is from 6:30am-8:30am
Setup for Veterans' Plaza is located on the grassy area at the foot of Newport Avenue and Abbott Street
Setup for Saratoga Park is located on Saratoga Ave. off Abbott St.
Vendors will provide their own canopies, tables, chairs, etc.
The festival DOES NOT provide electricity or water.
Vendor Parking
Food Vendors may unload in the designated loading zone areas between 6:30am and 7:30am.
Merchandise Vendors may unload in the designated loading zone between 7:30am and 8:30am.
All vendor vehicles must be moved immediately after unloading.
There is no designated vendor parking areas.
There are various paid lots throughout downtown Ocean Beach, which are within walking distance to the festival.
Vendor Booth Operations
All City of San Diego and/or County of San Diego regulations, including but not limited to, safety regulations, health department regulations, fire marshal regulations, and storm water policies must always be observed.
Whisper-quiet generators may be used if they are located where they are safe for the public, cords are covered, and they do not bother other vendors.
Electrical cords must be heavy-duty commercial grade and must be covered.
Tarps or signs must be no more than 12 feet high.
The Committee reserves the right to have a tarp and/or sign removed if is deemed unsafe or a detriment to the Festival in any way.
Booth Breakdown
Breakdown begins at 5:30pm in Saratoga Park.
Breakdown begins at 10:30pm in Veterans Plaza.
No sales after 6:00pm in Saratoga Park and 11:00pm in Veternas Plaza.
All trash AND fluids must be removed from the event by the vendor.
Fluids, including ice must not be dumped or left on festival property.
Each vendor is responsible for cleanup of their space. If the area is not left clean, the credit card on file will be charged $150 per your Vendor Agreement and the vendor will not be allowed in the OB Oktoberfest or OB Street Fair in future years.
Acceptance / Space Assignment
You will receive an acceptance email within 10 business days of submitting your application online.
Vendor space locations will be assigned based on the best flow for the festival.
Vendors will receive their vendor packet which will include their booth assignment via email by September 24, 2021.
Please bring your vendor packet to the festival check-in located at Veteran's Plaza located on Abbott Street.
Application Process for all Vendors
Completed online application
Payment in full via online credit card processing online.
Current Certificate of Insurance