Join the Ocean Beach MainStreet Association and celebrate the OB Oktoberfest while enjoying a bier with a view of the Pacific Ocean in the beer garden, artisan and food vendors on Veterans Plaza and of course Dine, Shop, Play & Stay in Ocean Beach for the weekend!
VIP Tickets $49
VIP Tickets include: 
Expedited First Entry + Admission
A custom one-liter "OB Oktoberfest" stein filled with 2 beers
Access to an exclusive VIP area with a bar, lounge, and upgraded restrooms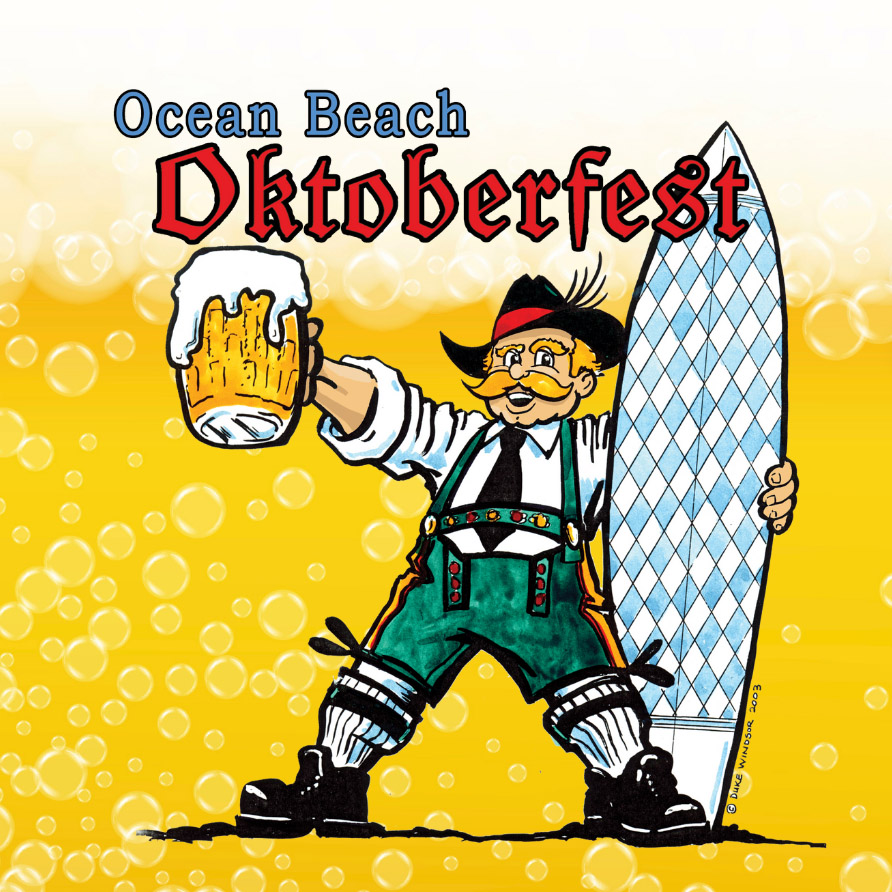 ---
Share your favorite memory of the OB Oktoberfest!
The OB Oktoberfest is celebrating 21 years!
San Diego's Wildest Oktoberfest is turning 21 in 2023. Scott Slaga (event founder, SD local, and co-owner of Winstons Beach Club) had the idea to start the event in the early 2000s after traveling to Munich to attend the legendary Oktoberfest. The inaugural OB Oktoberfest was held at Dusty Rhodes Park in 2002, then over to Del Mar before taking over the location it is at now, where Newport meets the beach. We're asking past OB Oktoberfest attendees to share their favorite memories or photos below and save the date for Oct. 6-7!
Share your favorite memory here and upload an image if you have one.
---
Friday: 4 pm to 11:30 pm
Beer garden @ the main stage with live entertainment (21+, $10 entry)
6:00 PM - Half Hour Late
8:00 PM - Stranger
10:00 PM - Paging the 90s
4:20 PM - 420 Happy Hour (Live Pro Wrestling by OB Rassle House + 2-for-1 drinks + featured non-medicated CANN cocktail)
7:30 PM - Women's Stein Contest
9:30 PM - Men's Stein Contest
---
Saturday: 10 am to 11:30 pm
Beer garden @ the main stage with live entertainment (21+, $10 entry)
1:30 PM - Lords of the Satellite
3:00 PM - Electric Waste Band
4:45 PM - The Aggrolites
6:30 PM - CAPYAC
8:30 PM - Vokab Kompany
10:00 PM - Band of Gringos
10:00 AM - Cornhole Tournament
11:00 AM - OB Liquid Lunch (Drag Show hosted by Mariam T. + the first 500 people get a donut + a shot of Jager Cold Brew)
1:00 PM - Brat Eating
2:30 PM - Balloon Blow
4:00 PM - Mr. & Ms. Oktoberfest
6:00 PM - Beer Belly Competition
8:00 PM - Woman's Stein Contest
9:00 PM - Men's Stein Contest
Veterans Plaza - Artisan, Craft & Food Fair
Saturday, October 7th, 10 am - 10 pm
Free and open to all ages!
---
Information on OB Oktoberfest beer garden activities, events, contests, happy hours, band schedules, and more at...
---
Vendors - The application for vendors will be available July 1, 2023
OBMA would love to have you celebrate 21 years of fun. Complete the application below to be a vendor on Saturday, October 7th at Veterans Plaza.
---
---
Looking for public parking? Click Here
---