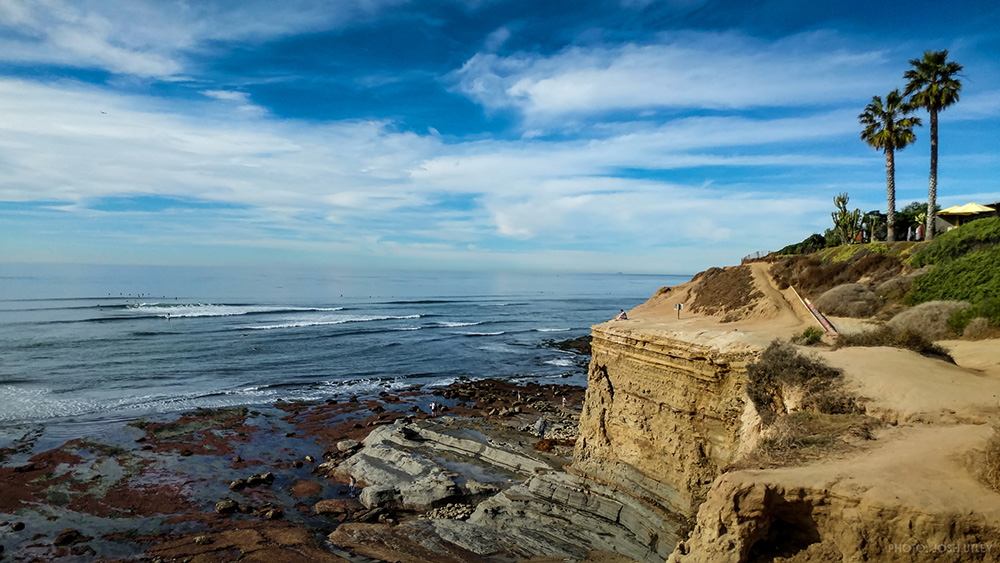 Dedicated in 1983, Sunset Cliffs Natural Park is a 68-acre City of San Diego regional park which extends 1½ miles along the Point Loma peninsula's western shoreline. This unique coastal environment features expansive ocean views, dramatic cliff formations and caves, a fascinating intertidal area, and native coastal sage scrub habitat, which provides connectivity to the adjacent Point Loma Ecological Reserve. Sunset Cliffs has long served as an attraction for San Diego residents as well as national and international visitors.
With its rugged coastline and panoramic views, this area is popular with surfers, ocean-gazers, and folks who like to cruise Sunset Cliffs Boulevard, which runs the length of the cliffs. The drive along Sunset Cliffs Boulevard, which begins at Adair Street and continues south to Ladera Street, offers breathtaking views and the most amazing sunsets that you will ever see.
Sunset Cliffs Natural Park is Located South of the OB Pier, Along Sunset Cliffs Blvd. Just Drive South!
Photos Courtesy of: Josh Utley
To view the full photo album click one of the images above Click Here.
---